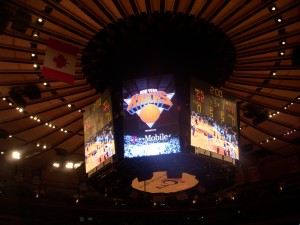 Since I posted about the food at Yankee Stadium and Citi Field, it's only fair for me to talk about the food at Madison Square Garden (MSG) as well. Sadly, there's not much to talk about. Basically, your only options are cafeteria food. Expensive, terrible cafeteria food.
We were invited to attend the Knicks/Nets preseason match-up at MSG and our seats were located in the Club section, meaning that we could get food and drinks delivered directly to our seats. Perusing the menu, there wasn't much that interested us. Sure you could get hot dogs, sandwiches, nachos, and other standard sports arena food, but it was shockingly pricey.
Josh and I weren't starving at that point so we ended up splitting an order of chicken fingers, which came with waffles fries. The cost? About $12, not including tip. Not being club seat regulars, I gotta ask – who do you tip? The person that takes your order? Or the person that brings you your food? Being newbies, we tipped the person taking the order 20%, thinking that they would be getting our food for us. But it turned out to be someone else, so we ended up tipping that person as well. It ended up being a very expensive order of chicken fingers and waffle fries.
So was the food at least good? Nope. The fingers and fries are obviously the frozen variety, and there were four tenders to the order. Even though they were delivered within 10 minutes, they were lukewarm and soggy and had clearly been steaming inside a plastic container for some time. Ugh. It's hard to mess up fried food, and they managed to do so. You all know how much I love fake seasoned waffle fries, but these were just sad.
It's really too bad because you would think that they'd want to give Club seat ticket holders decent food, since the tickets are so pricey to begin with. But what did I really expect? I personally think you're better off walking out and getting your own food, but then I feel bad about taking business away from the order-takers and delivery people. But then you pay a lot extra for a service that doesn't even really do a good job. It's quite a dilemma. At least we can get away with not ordering drinks from them, as they only have Bud, Bud Light, and Bass, while the beer garden stand just outside has far more and better beer choices.
I don't know if the concession stands are cheaper than if you order from the Club menu, but I can't imagine that it would a big difference in price. I'll have to look the next time we're at MSG. I really hope that MSG will step up soon and provide better food choices, a la Yankee Stadium and Citi Field. Both of those stadiums have vastly improved on the typically mediocre sports arena food. But until then, the food at MSG is pretty pathetic, and expect to pay through the nose for it.
Meanwhile, the Knicks beat the Nets handily, which was apparently a preview of things to come for the Nets. Not that the Knicks are doing so much better these days either. It's hard to be a basketball fan in this area!