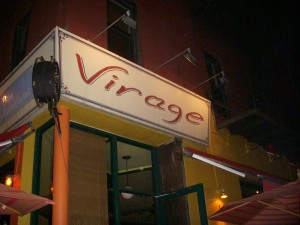 We had plans to meet up with other friends for dinner who suggested one of their favorite restaurants, Virage, a French/Moroccan restaurant on the Lower East Side. As soon as we sat down, they brought over little bowls of olives that were doused in olive oil, garlic and chili flakes. Those were deliciously addictive, and we dipped the accompanying foccacia bread in the leftover oil. We went through several bowls of olives before we even ordered (the bowls really were tiny and there were a lot of us!), and they happily obliged in bringing us more.
The menu there is quite expansive, with French classics as well as middle eastern cuisine. I had a hard time choosing what I wanted to eat as everything sounded great, but I was still full from all of the food that we had earlier in the day so I opted for something a bit lighter. And by lighter, I mean a gigantic steak salad with arugula, endive, tomato, onion, goat cheese and balsamic vinaigrette. The fresh vegetables really hit the spot, and the while the steak was a bit tough, the flavors melded together nicely with the goat cheese and the balsamic dressing.
And because I can't resist fries, especially at a French restaurant, I ordered a plate of them on the side that turned out to be quintessential frites – deliciously hot, crispy and salty.
Josh was a bit more adventurous in his order, a Moroccan free range chicken tagine with apricot, raisins, almonds, couscous and spicy carrots. He was a bit disappointed that it wasn't served in an actual tagine, but he was exceedingly pleased with his dish. The chicken was tender, the spices interesting but not overwhelming, and the plumped up raisins were a sweet surprise. I couldn't help but steal bites of couscous from his dish throughout the whole meal.
The atmosphere at Virage is really laid back. The music isn't too loud and we were able to carry on a conversation down at the other end of the table without having to shout, which is rare. It was wonderful to just sit there and nurse a glass of wine while talking to our friends. The service was attentive and not rushed. It's really a great place for groups, as there is so much on the menu that even the pickiest eater will find something they like. I can't wait to go back and try some of the other things on the menu that I had my eye on.
Virage
118 2nd Ave. at 7th St.
New York, NY