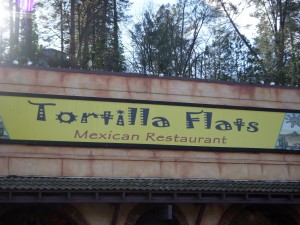 We left Tahoe around 11 in the morning and headed back to the Bay Area. We were too busy packing up the car to have breakfast so we decided to stop for lunch about an hour into our drive. We ended up at Tortilla Flats in Placerville, a Mexican restaurant on Main Street.
Our meal started off with complimentary baskets of fried tortilla chips and fresh salsa. The chips were thin and perfectly crispy, while the salsa had a fresh combination of tomatoes, onions, cilantro, and scallions. They happily brought us refills of each throughout our lunch.
I ordered a combination plate with two items – a ground beef burrito and a chicken enchilada. I ended up receiving a chicken burrito and a chicken enchilada instead, which I didn't realize until I had already cut into both items. The chicken was fine, moist and shredded into tender pieces, so I didn't bother asking for them to replace my burrito since we were kind of in a rush. Our waitress was really nice though so I'm sure that if I had said something, they would have fixed the problem graciously. Both the burrito and enchilada were covered in tangy salsa verde and melted cheese. I preferred the burrito only because it was wrapped in a flour tortilla, which I like better than corn tortillas, but otherwise they were pretty much the same so it just depends on your preference. The combination plate came with rice and refried beans, and it was just a huge platter of food. I barely finished half, but I thought it was pretty tasty.
Josh and Sean both had fajitas with a combination of chicken and steak. The plate had a huge pile of meat mixed with assorted peppers and onions, and a side of rice and refried beans.
The slices of grilled chicken and steak were tender but the dish lacked seasoning. A sprinkling of salt and a few spoonfuls of the tasty pico de gallo fixed that problem, although it was surprising that the huge plate of food only came with three small corn tortillas on the side. I used some of the guacamole on my own dish and I thought it was fresh and tasty.
Claire ordered carne asada tacos, which come with a choice of rice and beans or creamed corn on the side. Claire asked for "chips" instead, which our waitress said she would be bringing out anyway. She suggested that Claire get the mini tacos instead, since it was cheaper and didn't come with any unwanted sides. After the waitress walked away, Claire realized that she had mistakenly said "chips" instead of fries (Claire is from Ireland) so she clarified with the waitress, who told her it wouldn't be a problem to fix. We all had a good laugh about that, since we thought she meant tortilla chips as well, but the fries turned out to be fantastic – hot, crispy, and potato-y on the inside.
Overall I really liked both the food and the service at Tortilla Flats. We only stopped there because it was right on Main Street but it turned out to be better than I expected. The atmosphere was laid back and relaxed, the music was good (Rodrigo y Gabriela were playing over the speakers), service was attentive, and the food was tasty. It wasn't totally authentic Mexican food but it was comforting and familiar. Portions are very large and the prices were reasonable. If you're looking for somewhere to grab a bite to eat either on your way to or from Lake Tahoe, I'd definitely recommend this place.
Tortilla Flats
564 Main St.
Placerville, CA