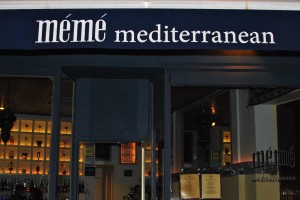 Our friends Silva and Felipe have been raving about Mémé, a Mediterranean restaurant in the West Village that is related to one of their favorite restaurants, Virage. Pronounced "may-may", which means "grandma" in French Moroccan, the menu features assorted tapas/small plates and heartier entrees that reflect the owners' heritage. We've been eager to try it out because we've heard such great things about the restaurant, and we also really enjoy Virage as well. We were thrilled when we were able to go to Mémé with Silva and Felipe for a last minute dinner on a random Tuesday evening.
We got to the restaurant around 8:45 and the place was packed. It's not a huge restaurant but it was a beautiful night and they had tables set up on the sidewalk, which were also full. There was a little bit of a wait but since it was so nice outside we didn't mind enjoying the fresh air and catching up as we waited for a table to open up. A short while later, we were seated inside. Even though the restaurant was full, the noise level wasn't too bad and we could still chat pretty easily.
After looking over the menu, we decided to share a few small plates/tapas to start. Since Silva and Felipe are so familiar with the restaurant, Josh and I told them to order whatever they thought was good. They selected four different dishes to share for our appetizer, and then we each picked our own entrees. After we placed our orders, we dug into the dish of olives and pickled vegetables they gave us, along with some bread and seasoned olive oil. The bread was really quite good; it had a sturdy crust, a chewy texture, and was studded with briny olives.
Our tapas arrived shortly, and we all eagerly dug in. First up was the ricotta gnocchi with truffle cream. There's a similar dish at Virage that Josh and I have tried before, and we absolutely love it. This version was just as tasty, with soft, delicate pillows of ricotta gnocchi swimming in a rich, creamy sauce flavored with truffle oil. The truffle flavor is fantastically intense. After all the gnocchis were eaten, Josh and I used lots of bread to mop up all of the sauce.
Next there were spicy carrots, which are seasoned with Moroccan spices. It was really an interesting dish, and I'm curious as to how the carrots are prepared. They're soft but not mushy, and have a wonderfully exotic flavor to them. These were certainly far from a boring old bowl of carrots. If I knew how to make these, I'd eat carrots more often!
Both Silva and Felipe love the merguez at Mémé, which is served with hummus, pita, and chopped salad. The sausage had a nice snap to it and lots of spices mixed throughout the meat. It was very flavorful and paired well with the hummus and salad.
Lastly, we had an order of fried artichoke topped with shaved manchego cheese. The artichokes were delicately crisp on the outside, and the salty manchego really complemented them well. There were two dipping sauces on the side, an herb aioli and a tomato/red pepper sauce, but I actually enjoyed just eating the artichoke and manchego plain. It was a pretty big portion and easily shareable.
For our entrees, Josh and I went halfsies on Mémé's couscous and the lamb two ways. The couscous featured merguez, chicken, vegetables, and chickpeas cooked in a broth and served over couscous. I've never had couscous in broth before, just dry and fluffy, so I thought it was a bit unusual but interesting. The chicken was falling off the bone tender, and the vegetables featured yellow squash, potatoes, and carrots. It was a hearty, comforting dish. My only complaint was that it was a little under-seasoned so it was slightly bland, but they do give you an herb mixture and some harissa on the side to liven things up a bit.
The lamb two ways featured lamb chops served on top of ratatouille and mashed potato and a lamb kebab with hummus and chopped salad. I asked for the lamb to be cooked medium rare, and it was perfectly executed. Both the chops and the kebabs were tender and well seasoned, and the meats had a nice gamey flavor to them. The ratatouille tasted fresh and sweet, and the mashed potatoes were a good accompaniment. I really enjoyed this dish.
Felipe had the lamb burger, which is what he always gets apparently, and Silva had the short rib bourguignon. It was a massive serving of short rib that had been slow cooked in red wine, mushrooms, and shallots. Josh and I had a taste and the meat was tender and well seasoned, and the sauce was intensely rich with red wine flavor.
Overall Josh and I both really enjoyed the meal we had at Mémé. We were glad that we experienced it for the first time with Silva and Felipe since they're so familiar with the menu. There are so many tapas on the list that we wouldn't have known where to begin. Nevertheless, I definitely would like to go back and try more of them, as the menu is incredibly diverse and extensive. Prices are pretty reasonable with the smaller plates ranging from $7-$12 and entrees averaging about $20 each. The portions are big enough to share, and it's a great place to go with a small group.
We were too full for dessert but Silva had thoughtfully brought us some macarons from the newly opened Lauderée on the Upper East Side. We ate them after we got home and though they got a tiny bit smashed in transit they were still light, crispy, and very tasty. The rose flavored macaron had a nice floral taste but wasn't overwhelming. I preferred the pistachio flavored macaron though, which captured the essence of pistachio perfectly. It was the perfect finish to a lovely evening.
Mémé
581 Hudson St. between 11th and Bank St.
New York, NY