Every time that Josh and I finally make our way to Chinatown, I constantly ask myself why we don't go so often anymore. Yes, it's a huge pain to get downtown on weekends because we never know how the subways are running, but it's totally worth the journey. Every time we go, we eat delicious food for super cheap, and we pick up tons of goodies for later. It makes absolutely no sense why we're so lazy that we only go once every few months.
Because we go so infrequently, we're always tempted to only go to our favorite places, like Lan Zhou Hand Pulled Noodles or Banh Mi Saigon Bakery. But that means we end up missing out on the million other great places in Chinatown. Now when we go, we try to go somewhere new to us, so that we continually expand our horizons. On a recent trip, we decided to check out Skyway Malaysian restaurant, a place I had read good things about.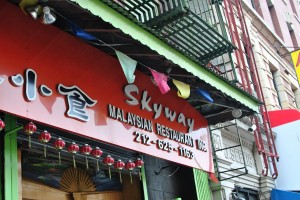 Located on the east side of Chinatown, which is less touristy, Skyway is kind of off the beaten path but not too hard to find. The menu has pretty standard Malaysian fare, stuff that we fell in love with while in Singapore. We originally planned on ordering light so that we could eat more food elsewhere, but as usual, our eyes were bigger than our stomachs.
We decided to share an order of roti canai to start. It's a flaky, buttery, layered pancake that's dipped into chicken curry sauce. However, our waitress convinced us to order the "special" roti canai, which she said was hand made and much better than the regular roti because it was much crispier. What we got basically a single layer of dough, which was crispier only because it was dry. There was no butter, no flakiness, no richness that we love about roti canai. This was more like pappadum, basically just a large, thin cracker. It was a huge disappointment, and more expensive to boot. While the chicken curry dipping sauce was wonderful, we couldn't help but wish that we had gone with the regular roti canai. We won't make that mistake again!
For our main courses, we split an order of mee goreng and curry chicken with rice. The chicken was served in pieces on the bone, and the curry sauce was different from the chicken curry dipping sauce that we had with the roti canai. This was much thicker and richer, less coconuty in flavor. It was definitely like a stew rather than the thin curry sauce that I'm used to. The flavors were pretty concentrated though, and I liked taking the chicken off the bone and mixing everything into the rice.
Mee goreng was one of my favorite dishes when we were in Singapore. My favorite version was from Jumbo, though Josh hated it because ketchup was the predominant ingredient. The version at Skyway was more like the standard kind we got at most places, meaning it wasn't as sweet or tomato-y. There was a good balance between the sweet, salty, and sour aspects in the sauce, and the lo mein noodles were chewy and bouncy, not mushy. The mee goreng was topped with shrimp and bean curd, as well as other ingredients that added various textures to the dish. I enjoyed it a lot, though it was pretty rich and we ended up taking half of it home.
Overall we were pretty happy with the food at Skyway Malaysian. Aside from the mistake in ordering the "special" roti canai, which wasn't bad, just not our preference, the curry and noodle dish were both really tasty and seemed pretty authentic to us. As with most places in Chinatown, lunch was a bargain – less than $20, and I had leftovers for lunch the next day. If you haven't tried Malaysian food before, this is a good place to go because the menu is really extensive. It's not hard to find something that would be "safe" but still completely representative of Malaysian cuisine.
We were completely stuffed from lunch so rather than continuing on an eating tour, we decided to pick up a few things that we could eat later in the week for dinner. Our first stop was Hua Ji, a small takeout joint that was conveniently located just a few doors down from Skyway. Hua Ji is known for its pork chop over rice, a Taiwanese staple that I remember eating a lot when I was little. Josh had never tried this dish before so I was eager to have him taste it.
We just heated it up in the microwave so it might have lost its crispiness on the outside, but the pork chop itself was still pretty juicy. It's covered in a Chinese five spice powder and is slightly peppery. The rice is topped with a pickled cabbage and ground pork mixture that is slightly sour and very savory. I mix everything together and it just reminds me of my childhood. Hua Ji's pork chop over rice was one of the best versions that I've had, and super cheap at just $5.
We also got a lamb burger and pork burger from Xi'an Famous Foods. We had gone to the original branch at the Golden Mall in Flushing, and we were thrilled when they opened up a store in Chinatown. It's super tiny though so there's no real place to sit and eat. We got the burgers to go and then heated them up in a nonstick pan, covering it so that the filling would get hot, then turned up the heat and let the outside of the bun sear a bit to crisp up.
The lamb burger is chock full of cumin flavor, and is slightly spicy. It has a chewy texture to it and can be a bit gristly at times, but the flavor really packs a powerful wallop. It's definitely a must-have if you like cumin. The stewed pork burger is more tender and juicy, though the flavor isn't as intense. It's slightly sweet and has a more homey, comforting flavor.
All in all it was a successful outing to Chinatown. I can't wait for our next trip!
Skyway Malaysian
11 Allen St. at Canal St.
New York, NY
Hua Ji Pork Chop Fast Food Incorporated
7 Allen St. between Canal St. and Division St.
New York, NY
Xi'an Famous Foods
88 East Broadway at Forsyth St.
New York, NY