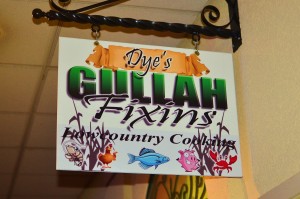 Dye's Gullah Fixin's is a restaurant in Hilton Head that I've wanted to try for years, but it's got a reputation for being hard to get into. The daily hours vary depending on whether Dye is catering a party elsewhere. We were finally able to snag a reservation last year and I was thrilled to be able to taste home-style Gullah cuisine for the first time. Per wikipedia, the Gullah are descendents of African slaves who reside in the Lowcountry region of South Carolina and Georgia. The cuisine reflects a blend of these African and Southern roots, and so it is a bit different from the usual Lowcountry fare we've eaten before in terms of flavors.
The menu isn't very long and is pretty straightforward. We ordered a few appetizers to share, and we indulged on the complimentary cornbread with sugar cane syrup on the side. The cornbread was deliciously moist and didn't even need the syrup or extra butter that came with it.
We got a few orders of the shrimp devil eggs, which were deviled eggs with shrimp mixed into the mashed yolks. These were well seasoned, not too heavy or mayo-y, and made for a nice bite to start.
The seafood hush puppies were fantastic. They were served to us piping hot, and had a delicately crisp outer shell. There was a mixture of crab and shrimp on the inside, and these were surprisingly light, not too dense. The hush puppies came with a homemade tartar sauce, and they were one of our favorite dishes of the night.
We also got steamed shrimp, which were bathed in a garlic butter and served with cocktail sauce. The shrimp were cooked just right so that they were tender and plump. Simple, yet tasty.
Lastly, we all shared a crab cake plate as part of our appetizers. The crab cakes were two big patties bursting with blue crab meat and very little filler, aside from a few veggies and seasonings. Since this was technically a dinner plate, it came with our choice of two sides. We opted for collard greens, which were more rustic in flavor than the typical collard greens we've tasted before, allowing the slight bitterness of the greens to shine through. We also chose the mac n' cheese, which was baked and on the dry side, though had decent cheese flavor.
For our main course, Josh and I split the country fried chicken and the smothered shrimp and grits. The fried chicken came with a breast, thigh, drumstick, and wing (half a chicken) and was nicely crisp on the outside, not the least bit greasy. The meat was tender and juicy, and everything was well seasoned. We had a choice of two sides and opted for more collard greens, plus lima beans, which were savory in flavor and buttery in texture.
The smothered shrimp and grits were covered in a rich brown gravy and came with bacon and smoked sausage on the side. While I liked that you could crumble in the bacon yourself, thus ensuring that it stayed crispy, there was too much gravy on the plate. I get that it's supposed to be smothered, but the grits were totally lost in the sea of thick gravy. The shrimp were also overcooked, rendering them tough and chewy. It was too bad, because I like the flavors of the dish, but it got to be overwhelming very quickly.
Overall, we were generally pleased with our meal at Dye's Gullah Fixin's. Everything is homemade, and you can see the thought and care put in every dish. The only miss of the evening for us was the smothered shrimp and grits, but everything else was fantastic, especially the appetizers. The hush puppies, the crab cakes, and the fried chicken were our favorites f the evening. The food and the ambiance are nothing fancy, but that's part of the charm. Dye herself was in the kitchen and came out to speak with us several times. She's pretty straightforward and no nonsense, but you can tell she's passionate about her cooking and about sharing Gullah food with newbies like us. Her niece, who was about 12, was our server for the evening, and she was extremely polite and efficient. J took a particular liking to her and wouldn't eat unless she was around, which we all thought was pretty adorable. It's definitely a place worth checking out, if you can get a reservation!
Dye's Gullah Fixin's
840 William Hilton Pkwy.
Hilton Head Island, SC