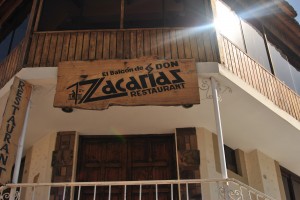 During our drive from Arequipa to the Colca Valley, we stopped for lunch at a restaurant called El Balcon de Don Zacarias in the town of Chivay. Lunch was included as part of our tour package but that wasn't the case for everyone in our group, and Josh and I were pretty disappointed not to be able to explore restaurants in the town by ourselves. In our experience, tour package restaurants for the most part have served us pretty lousy, bland food that is designed for tourists. See most of my China posts for reference.
Nevertheless, since we had apparently already paid for lunch as part of our package, we grudgingly trudged up the stairs and into the restaurant. We were further disappointed to see that it was a buffet, and the few patrons in the restaurant were all clearly tourists. Josh and I took a quick stroll around the buffet to see what the offerings were, and I was pleased to see that the food did look pretty interesting, as we didn't recognize any dishes. Everything looked homemade and kind of rustic, no fussy presentations or decorations in sight, so I was hoping that we would be eating authentic Peruvian dishes, not a watered down version of Peruvian food for tourists. With everything arranged in pyrex dishes on a long table, it looked sort of like a potluck, rather than a restaurant buffet.
Josh and I both started out with some soup – squash for him and chicken soup for me. The squash soup wasn't like the pureed butternut variety we typically eat here. Instead there were cubes of different kinds of squash mixed in a creamy yellow soup that was surprisingly light and not too rich. The chicken soup I had was plain but soothing, with a clean chicken flavor. There were thin strands of noodles inside but they were long and kind of hard to spoon up so I mostly just drank the broth.
I started out with a "feeler" plate, taking a little bit of most things so that I could try as much as possible. Half of the buffet contained raw salad items, however, which I avoided because I wasn't sure how they washed their vegetables. I did eat things that were peeled though, like beets and tomatoes without skin. Maybe I'm just being paranoid but even though we're adventurous eaters, we do take some precautions to try and avoid getting sick.
The meats were all in stew-like sauces, so it was hard to distinguish between them. It was the first time that we tried llama and alpaca though. The llama was very strange, since they have to dry the meat before cooking it. The result was very tough and gristly, almost like eating cartilage. Flavor-wise, however, it was fantastically gamey. I loved the taste but couldn't get past the texture. The alpaca was inoffensive, with a texture similar to veal or pork, and tasted mostly like the sauce it was cooked in. The beets were fabulous, just plain roasted but super sweet and intensely "beety" in flavor. I took seconds of that, as well as the vegetable fritters which were a mix of corn and squash and were also sweet and fresh-tasting.
For dessert, there was fruit in a sweet, white syrup, a flan-like custard, and a passion fruit flavored pudding. Nothing super exciting, but not bad either.
The food at Zacarias really wasn't upscale or gourmet, but I actually liked it much more than I thought I would. Yes, I'm sure it's still designed for tourists, but the food seemed genuine and there weren't any cop-out dishes (ie., plain chicken or beef, American food, etc.). The only dish we knew was french fries, but they were made from flavorful, starchy Peruvian potatoes, not the McDonalds variety. I don't know if you need to be part of a tour group to eat at this restaurant or if you can just walk in, but if you find yourself in Chivay for whatever reason, it's worth checking out. The restaurant and the facilities are clean, and the buffet was a nice way to try lots of different dishes. I still like to think they were authentic homestyle Peruvian dishes, though I don't know the names and won't be able to order them elsewhere. Regardless, the food was tasty and we left with our bellies very full.
El Balcon de Don Zacarias Restaurant
Av. 22 De Agosto, Valle Del Colca
Chivay, Peru