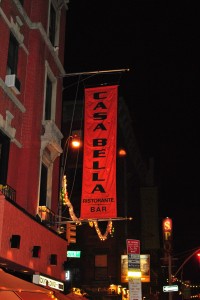 We used to go to Little Italy all the time for our weekly Sunday night dinners with Josh's family. We had our favorite standby, Buona Notte, but went there so often everyone eventually got tired of it. We bounced around a few other places, like Angelo of Mulberry Street and Pellegrino's, but nothing else stuck. The annoying part about walking down Mulberry St. is the people standing outside each restaurant trying to get you to go inside. They can be quite obnoxious, and we tend to avoid the pushier places. Since we didn't have any real idea of where to go, we just looked at a few menus posted outside and picked a place that seemed to have a lot of people dining. That's how we ended up at Casa Bella.
The restaurant is pretty big and has both indoor and outdoor seating (weather permitting, of course). They gave us a nice round table next to the window so we could people watch a bit, and it wasn't too loud inside so we could still carry on a conversation. Our meal started off with a basket of Italian bread, which was pretty standard but tasty with butter. It had a nice crispy crust and a chewy inside.
There were five of us at dinner so we decided to share a caesar salad for two and a margherita pizza for our appetizer course. The caesar salad was well prepared, with lots of crisp romaine tossed in a creamy but light caesar dressing. There was lots of grated parmesan on top and some crunchy croutons.
The pizza was pretty good for a place that doesn't specialize in it. The crust was thin and crispy, with good color on the bottom. The sauce was tangy, not too sweet, and the cheese on top was browned and bubbly.
For our main course, I chose rigatoni alla vodka while Josh had chicken parmesan. The vodka sauce was a touch too creamy for my preference, but the flavor was there. The tangy tomato sauce helped cut through the richness, and the sauce was well seasoned. The rigatoni was cooked nicely to al dente.
Josh's chicken parmesan was a massive piece of pounded chicken that was well breaded and nicely fried. The edges were browned and crisp, and the breading stood up under the thick covering of melted mozzarella and tomato sauce. I stole more than a few bites off his plate but luckily he didn't mind since the portion was so big.
Overall we were pleasantly surprised by the food at Casa Bella. We had initially written it off as just another Little Italy tourist trap but the food was solid. The menu is extensive and features the usual classics, and the red sauce is tasty enough to carry a lot of the dishes. Prices are average, with apps around $10-$12, most pastas around $15-$18, and regular mains in the $18-$22 range. Definitely not cheap, but reasonable, especially given the location. It's not a special or spectacular place, but it's one of the better places we've tried in Little Italy. I'd be happy to return.
Casa Bella
127 Mulberry St. at Hester St.
New York, NY