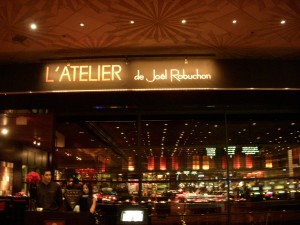 Prior to coming to Vegas, this was the meal that I was looking forward to the most. Maybe it was that sort of expectation that set the meal up for failure, but this is Joel Robuchon we're talking about, the "Chef of the Century" (or so it says on the restaurant website). I was pleasantly surprised to see that L'Atelier was participating in the MGM Grand Summer Tasting Menu special, and a 5-course dinner was priced at just $75, half the price of their standard tasting menu. When we arrived, however, there was no mention of the Summer Tasting special. All the other participating restaurants posted a big sign by their doors that advertised the special and displayed the menu. We confirmed with the maitre'd that there was indeed a special, and proceeded inside to the beautifully decorated restaurant. The décor was truly stunning, with a black and red theme and jars and vases full of fresh fruits and sliced vegetables suspended in water – very simple, very elegant, and very cool.
When Josh made the reservation, he made sure to request a seat at the counter that surrounds the kitchen, and it was wonderful to be able to watch the chefs hard at work preparing our food.
First up was a beautifully presented amuse bouche of foie gras mousse, port wine reduction and parmesan foam, all layered in a shot glass. The flavors were rich and sweet and savory at the same time, and it melded together really well.
I was excited to see the beautiful baguettes in the bread basket, but was surprised that the bread was served cold. Nevertheless, it was one of the best baguettes I've had, with a crispy crust that shattered into a million crumbs and an airy, chewy center. Slathered in butter, I could have just eaten these baguettes all night and have been completely satisfied. Our waiter did not hesitate to replenish the basket often, which made me one very happy girl. Don't worry, I can eat a lot of bread and not get full.
The first course was layered roasted vegetables and buffalo mozzarella, carefully stacked into a tower, with basil pesto decorating the sides of the plate. The presentation was visually stunning, and it tasted fresh and bright. The roasted vegetables still had a bit of a bite to them and complemented the creamy buffalo mozzarella perfectly.
The second course was a langoustine fritter, but served with the same basil pesto as the previous dish (they even used the same leaf decoration motif), and there was a small mixed green salad on the side of the plate. The fritter, which was a langoustine wrapped in a spring roll wrapper with a basil leaf and deep fried, was crispy on the outside and plump and tender on the inside, but Josh was disappointed that they repeated the same sauce in the first two courses. The result was that the flavors overlapped too much, and so it made the second course seem underwhelming and unmemorable.
For the main course, we had a choice between salmon and pork belly, so of course we chose one of each. The pork belly, served with a sweet onion confit, was melt-in-your mouth tender. Literally, the fat just melted in my mouth. The meat was tender and sweet, the outer crust crispy and salty. It was hands down the best pork belly that I've ever had.
The salmon paled in comparison. It was a perfectly adequate piece of salmon, well cooked, not too overdone, with a caper and lemon sauce, but I couldn't get over the deliciousness of the pork belly. I was sad to have to share half the pork belly with Josh!
The salmon did come with a little pot of pureed potatoes on the side that was sinfully buttery and well seasoned. I scooped out every last bit (I do love my carbs after all).
The next course was a cheese plate. I was apprehensive about this course because I'm not a cheese person. Growing up, I hated all kinds of cheese, and refused to drink milk. Now I'm slowly forcing myself to get used to eating cheeses. I will always taste a cheese, even if it's just a little bite, no matter how stinky it is. There were three cheeses on this plate, but the only one that I remember the name of is Fourme D'Ambert, thanks to Top Chef season one where Miguel couldn't remember the name. Now I'll never forget it!
The first cheese though was similar to brie, and I was able to eat most of it spread out on some slices of bread that accompanied the plate. It was creamy and buttery and mild enough for me to enjoy. The second cheese was a goats milk cheese rolled in dried herbs. Normally I love goat cheese, but this version was a bit too dry and chalky, and didn't have that gamey tang to it that I'm used to. The dried herbs did nothing to help the flavor and only served to get caught in my throat. I was not a fan, but Josh seemed to enjoy it.
Last on the plate was the Fourme D'Ambert. I hate bleu cheese with a passion. There's a sour, spoiled quality to it that I just can't get over. Still, I gave it a shot, spreading a small portion on a piece of bread. Ugh. Josh had the same reaction. Our waiter noticed how much we weren't enjoying the cheese, and he very thoughtfully brought over a glass of ice wine, which he said would help make the flavor of the Fourme D'Ambert more mild and palatable. It was a really nice gesture, and he didn't charge us for the wine in the end. However, the ice wine still didn't help us get over the flavor of the cheese, and we left the slices of Fourme D'Ambert mostly untouched.
The final course was of course dessert, and lots of it. We had a choice between a selection of tarts or ice cream and sorbet, so we chose one of each. The tarts were were slivers of chocolate caramel, raspberry, cinnamon, lemon, chocolate ganache, and cheese, all presented on a long plate. Each one was more decadent than the next.
The ice creams and sorbets were also presented together on a long plate and included pistachio, blueberry, strawberry, exotic fruit, and tequila(!).
They were appropriately creamy and refreshing, and the melted remains left a beautiful rainbow of colors.
Overall the meal was really good, but not the best meal I've had recently. I couldn't help feeling a little disappointed after we left that it wasn't more spectacular. Don't get me wrong, everything tasted delicious, but aside from the pork belly, I've had comparable or better dishes elsewhere. The special summer tasting menu, while a good value at $75, really was quite limited so I might be tempted to come back and try a few dishes a la carte. It was a great total experience, as the service was top notch, and we really enjoyed sitting at the counter watching everything being made. We saw one chef stack and re-stack the roasted vegetable and mozzarella tower until it was absolutely perfect. It's that kind of attention to detail that really makes a big difference. I'd really be interested to see what a meal at the Mansion, the fancier Joel Robuchon restaurant at MGM, would be like. Too bad it's way too expensive, but maybe one day!
L'Atelier de Joël Robuchon
At the MGM Grand
Las Vegas, NV