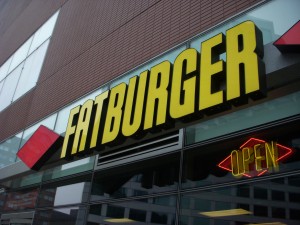 I was working in Jersey City for the day, one of the rare occasions that I was allowed out of the office. None of us were really familiar with the area but there was a Fatburger across the street so we decided to try it out. I got a "Fat Deal", which is a 1/3 lb hamburger with fries and a soda. You have a choice between fat fries (steak fries) and skinny fries (regular), of which I chose skinny. Steak fries are probably my least favorite variety of french fries. You can choose the toppings that you want on your burger, but the choices aren't as vast as Five Guys, for example. I asked for everything except mustard, which was lettuce, tomato, onion, pickles, mayo, and relish.
The relish was a huge mistake. They really slathered it on, and the taste totally overpowered everything else. I have no idea what the patty tasted like, and texture wise it was all pretty mushy. The meat is coarsely ground and loosely packed so everything started falling apart as I was eating it.
The skinny fries were good though, as they were thin, hot, salty, and crispy.
Overall I was a bit disappointed with my Fatburger experience, but I do think the relish was my fault. I didn't notice it on the list and wouldn't have put it on otherwise. I also made the mistake of not ordering a shake, as my coworkers all raved about theirs. I'll have to give the place another shot, and be more careful in my ordering. Unfortunately I won't be back in Jersey City any time soon, so who knows when I'll come across a Fatburger again?
Fatburger (multiple locations)
286 Washington St
Jersey City, NJ