Muffaletta, a sandwich made from round Sicilian bread stuffed with Italian cold cuts, cheese, and olive salad, is another iconic New Orleans food. During our last trip, we tried the "original" muffaletta from Central Grocery and loved the combination of the soft focaccia-like bread, the savoriness of the cured meats, and the sharp brininess of the olive salad. I enjoyed it so much that I made Josh bring home a whole sandwich (they're so big that they're sliced into quarters and can be bought as a half or a whole; a quarter is a good-sized sandwich for one) after his conference ended. The bread suffered a bit from the travel/plane ride, but that olive salad was still great.
This time around we decided to try out some other muffalettas. The version from Cochon Butcher, the more casual sandwich outpost of Donald Link's Cochon Restaurant, has gotten great buzz, so we headed over there for a late breakfast/early lunch.
Cochon Restaurant actually played a small part in the inspiration for this trip. We had been watching a movie with Jason Segel called Jeff Who Lives at Home, which takes place in Louisiana, and Cochon was featured in one of the scenes. While the movie was on, I was reading articles about it and learned that Jason Segel had gained over 20 pounds during filming because of all the great food in New Orleans. The funny part about the weight gain is that the movie is supposed to take place over the course of one day, so you can see his character thinner in one scene and then visibly bigger in another, even though no time has passed in the movie itself. It made me think about all of the great food we had eaten in New Orleans on our previous trip, and all of the great food we didn't get to eat.
Josh and I usually don't like to travel back to places we've been before because we feel like there are so many places we haven't seen yet. With the arrival of Baby J, however, we've had to amend our way of traveling – less exotic, more low key – so I suggested making New Orleans the starting point of our trip, but also adding in cities where we haven't visited before. It was a win/win situation.
Anyway, while I would have liked to eat at Cochon Restaurant, I thought that J would be better off in the less formal Cochon Butcher. She's pretty good in restaurants but still has a habit of throwing food all over the floor, and I was afraid of her making a mess or causing a scene. Unfortunately, we got there right when a huge medical conference at the nearby convention center let out for lunch, so there was a huge line of doctors waiting to order food. J was getting fussy so I walked her around the block a few times while Josh stood in the line to place our order. Cochon Butcher is pretty small inside and I didn't want to try to navigate her stroller around all the people. Luckily there were a few tables outside and I was able to nab one and park her stroller away from the crowd. It was a warm day and sitting outside was actually quite nice.
Our food was delivered to us shortly, including the much-anticipated muffaletta. It's definitely a "chef-y" version of the sandwich, with high quality, thicker cut meats that are cured in-house. It's also a lot smaller than Central Grocery's version, although still plenty of food.
The bread was fluffier and lighter, which was also different, but the biggest disappointment was the olive salad, which I don't think was as briny and didn't have a lot of impact. The biggest issue was that there simply wasn't enough of it, so it got kind of lost between all the bread and the meat. Don't get me wrong – the sandwich was still delicious. It was served warm and the cheese was all melty, which I liked. But it was more of just an upscale Italian style sandwich rather than what I think of when I think about eating a muffaletta.
We also ordered the pork belly sandwich, which came on white toast and was topped with a cucumber-mint salad. The pork belly was tender and flavorful, as you would expect from good pork belly. However, I thought it was just maybe slightly underdone. The pork belly was definitely cooked through, it just wasn't as caramelized as I thought it would have been so that it would melt in our mouths. But maybe that's just how the sandwich is supposed to be. It was still a delicious sandwich, with the refreshing salad to cut through the fattiness, but it didn't have that wow factor.
We also got an order of boudin, which is a Cajun style sausage that is made with ground meat and rice mixed together. We were looking forward to eating the boudin in Lafayette, where it's more well-known, but Michael the concierge told us not to miss Cochon's version. It was intensely meaty, with a bit of a funk to it that I think comes from chicken liver. It was the first boudin we've ever tasted, and we were big fans. It was wonderful with the whole grain mustard and sweet pickles on the side.
Lastly, we got some pancetta mac and cheese, which was our favorite dish of the meal. The sauce was creamy and cheesy, as expected, and the pancetta added a savory, smoky aspect. The top was nicely browned, and it was just a bowl of comforting umaminess.
Overall I really liked Cochon Butcher, although the sandwiches themselves didn't knock my socks off. It's a great place for a low key meal with quality ingredients at a reasonable price. Plus when he dropped off our food, the waiter said, "nice order, bro", which made me a bit proud and predisposed to enjoy it.
Josh was more disappointed with Cochon Butcher's muffaletta than I was, so we decided to pick up a half from Central Grocery the next day and eat it back in our room later that evening. This was after our breakfast/lunch at Domilise's and Casamento's, and our long walk from Uptown back to the French Quarter. Since Central Grocery closes at 5 pm, we got half a muffaletta to go, and then walked over to the Napoleon House for a drink and late afternoon snack/early dinner.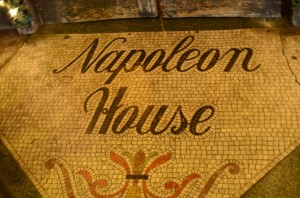 Napoleon House is known for two things: inventing the Pimm's Cup, and their hot muffaletta sandwich. We were hungry but not starving so we decided to share a half; it's size is more similar to Central Grocery so a quarter for each of us was definitely plenty. I actually thought the sandwich would be hotter and more toasty, but it was just slightly warmed through and the cheese was barely melted. It was fine though, and the flavors were generally spot-on for me. However, visually, the proportions were off and the sandwich is constructed differently from Central Grocery's version. Here, the bread is thicker and softer, and the cheese acts as a barrier between the olive salad and the bread, which prevents the olive oil flavor from soaking in. Nevertheless, there was a lot of olive salad, which I liked because the flavor was nicely pronounced, and there was a fairly thick layer of meat to balance everything out. While I enjoyed Napoleon House's muffaletta quite a bit, Josh was still focused on the Central Grocery muffaletta.
The Pimm's Cup was a pleasant surprise for me, since I typically don't like gin-based drinks. It's a combination of Pimm's #1, lemonade, and 7-Up, garnished with a slice of cucumber. However, this tasted mostly like potent lemonade and was actually quite refreshing. It wasn't overly sweet, and I could enjoy drinking a lot of this on a hot summer's day.
We also ordered a portion of jambalaya with our sandwich for J to snack on, but she was more interested in running around. It was a pretty good version, not too smoky, with lots of sausage mixed throughout.
The atmosphere at Napoleon House is part of its appeal. The bar has a ton of history and looks it on the inside. It's dark with a classic, European feel to it, and old pictures and paintings hanging on the walls. We were a bit nervous about whether it was baby-appropriate, but the hostess was very gracious and seated us in a near-empty room where J wouldn't bother anyone. Our waiter was great too, attentive but unobtrusive. He didn't mind when J started taking a few laps around the empty tables. It's definitely a place where I could see hanging out for a quiet drink in a historic setting away from the craziness of Bourbon Street.
After Napoleon House, we walked around a little more and then called it an early night. We knew we'd be hungry later so we picked up another fried shrimp po' boy from Verti Marte to go with our half muffaletta from Central Grocery. When we finally cracked into the muffaletta, it was just as we remembered. Soft bread, not too dense or too fluffy, slightly oily from the olive salad soaking into it, and the perfect ratio to the meat and cheese. And that olive salad – bright and briny with a slight kick – it packs a punch of flavor into the sandwich.
I guess it's no surprise that Central Grocery reigns supreme as our favorite muffaletta. What really puts it over the top is the tangy and spicy olive salad that just bursts with flavor. It's also the first muffaletta sandwich we ever ate and is the standard that we use to compare all other muffalettas. That's not to say that we didn't enjoy the other versions we tried on this trip. I thought Napoleon House had a pretty good example of a hot muffaletta, and I enjoyed the slight meltiness of the cheese in the sandwich. And Cochon Butcher's muffaletta was still delicious, with the best meats and cheese out of the bunch. If I had to deconstruct a muffaletta and eat each component separately, Cochon's would be the one I would prefer to do that with. But as a whole, nothing beats the original.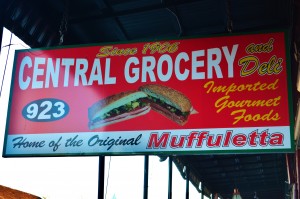 Cochon Butcher
930 Tchoupitoulas St.
New Orleans, LA
Napoleon House
500 Chartres St.
New Orleans, LA
Central Grocery
923 Decatur St.
New Orleans, LA