We only had half a day of sightseeing in Washington DC before we needed to head back north for our next destination, Philadelphia. It was fine by me because it was the hottest weekend of the summer and I really wasn't feeling up to doing too much walking around (107 degrees + 7 month pregnant belly = not a happy camper). We did a short circuit of the major landmarks closest to our hotel – the White House and the Washington Monument.
The Lincoln Memorial was within sight but simply too far away in the heat. Instead, we cooled off in the air conditioned Smithsonian National Museum of American History. Why that particular museum? I wanted to see the Julia Child exhibit. Unbeknownst to us, the exhibit had closed in January (it later reopened, and is now part of the new FOOD exhibit), and I was pretty disappointed to have missed it. However, the Star Spangled Banner exhibit is really incredible, and worth a visit on its own.
After driving around to see some of the other sights that we weren't able to walk to (ie., the Capital Building, the Martin Luther King, Jr. Memorial, the Jefferson Memorial), we headed over to the U Street Corridor to another Washington DC landmark: Ben's Chili Bowl.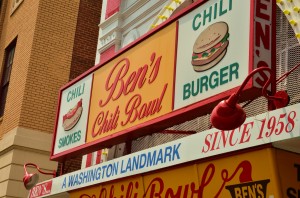 It was a little past lunchtime so we were able to get seats at the counter right away. It was cool to be in the middle of all the hustle and bustle and see all the workers in action behind the counter.
The menu is posted on a board, and we zoned straight in on the chili half smoke. The menu isn't very broad, although you can get hamburgers and other sandwiches. The main feature is obviously the chili, which you can get on pretty much anything.
Josh and I each got a chili half smoke. A half smoke is a smoked sausage that is half beef and half pork. It looks like a hot dog but is fatter in size and a lot more flavorful. The casing had been browned on a griddle, which gave it a good snap, and the texture of the sausage was firmer than a hot dog, which helped it stand out from underneath the chili. The chili itself was delicious. The meat is ground pretty small but as whole, it's thick, savory, and has a nice kick to it. Rounding out the chili half smoke was a slather of mustard and some raw chopped onion.
We also shared an order of fries (the chili half smokes come with potato chips on the side), which were fresh out of the fryer and piping hot, but otherwise fairly standard. We probably should have gone for the chili cheese fries, if only to be able to eat more of that delicious chili.
On our way out the door, we stopped to look at all the half smokes crisping up on the griddle.
Overall Josh and I both loved Ben's Chili Bowl. In addition to having great chili and half smokes, the place just has so much history and character. It's definitely a DC landmark that you shouldn't miss out on.
After leaving Ben's, we headed to the Adams Morgan neighborhood in search of a ginormous slice of pizza. I wasn't a huge fan of the now cancelled tv show Food Wars, but sometimes the food depicted on the show just called out to me. The Pizza Mart vs. Jumbo Slice episode stayed in my memory (probably because I love pizza and couldn't get enough of it while I was pregnant), and we decided to try a head-to-head battle ourselves. Unfortunately, Jumbo Slice was closed, which only left us with Pizza Mart.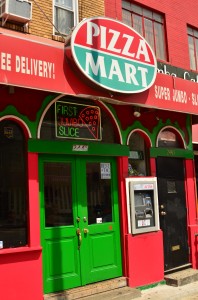 The inside of the shop is a bit dingy, but that's never stopped us before. There are a few small tables in the front and some counter seating, but it looked like most people took their food to go. Josh and I decided to split one jumbo slice, since we had just filled up at Ben's Chili Bowl right beforehand.
To get a better perspective on just how large this jumbo slice is, it was more than twice the size of my hand and covered two paper plates.
Size aside, I actually found the slice to be pretty decent. It was similar to NYC pizzeria style pizza and had a good flavor to it. It wasn't overly cheesy, though it could have used slightly more tomato sauce. But the sauce was tangy, the cheese was nicely browned, and the crust was thin.
Is this also a can't miss landmark? Definitely not. But it was fun trying to manage the absurdly large slice of pizza, and I enjoyed eating it. Josh wasn't as impressed, but he's more of a pizza snob than I am (it horrifies him that I enjoy eating Elio's). At $5 a slice, I can see this as a great, cheap place to grab a quick bite after a night of drinking.
Ben's Chili Bowl
1213 U Street NW
Washington, DC
Pizza Mart
2445 18th St NW
Washington, DC