Prior to our arrival in New Orleans, Josh and I had two main goals for the NOLA portion of our trip – to eat as many oysters and po' boys as we could. Having eaten over 10 dozen oysters in three days, I think we accomplished that goal pretty well. As for po' boys, we didn't do too shabby in that regard either.
Immediately after we checked into our hotel and left our bags with the bellhop (our room wasn't ready yet since it was still morning), we headed a few blocks down to Mother's Restaurant for a late breakfast/early lunch. I've always read great things about their po' boys with debris and wanted to try it out. Josh had eaten there without me during our last trip to New Orleans (he stayed a few extra days for a work conference after I flew home) and wasn't impressed, but I convinced him to give it another shot.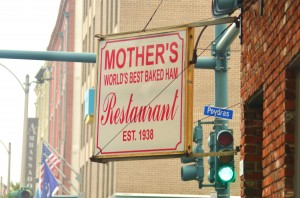 Turns out he had ordered the Famous Ferdi Special last time, which is a po' boy with baked ham, roast beef, debris, and gravy. I had read that just the plain roast beef po' boy with debris and gravy was the way to go, so we decided to split a large one of those. The slices of roast beef were pretty tender but the real star was the debris, which is basically the shreds of roast beef that fall apart into the gravy. The resulting meat was juicy and flavorful, and there was a tangy slaw on top that helped cut through the richness of the beef. The gravy soaks through the bread and although it does get a bit soggy, we were still able to devour the sandwich with relative ease.
We also split a biscuit sandwich with black ham. Black ham is basically the caramelized ends of the baked ham, which has an incredibly flavorful crust. The ham was delicious, meaty and slightly sweet, although it a bit dry. The biscuit was more cakey than flaky, but it worked well to contain the pile of ham.
The ordering process at Mother's is pretty efficient. People line up to place their orders at the front of the restaurant, and then find seats in the back rooms. Waitresses will then look at your receipt and deliver your order. Since we had J with us in her stroller, they let me find a seat first while Josh stood in line. Although the line was long, there was plenty of seating available so it wasn't a big deal. It's a much larger place than it first appears. Most of the tables are big and round, and I guess when they're really busy, seating may be communal. Despite Josh's reservations from his previous visit, we really enjoyed the food at Mother's, and he was happy to have tried it again.
Our second po' boy on the trip was a recommendation from the bellhops at the Hilton St. Charles. They suggested we try out Verti Marte, which is basically a little deli/grocery store on the outskirts of the French Quarter. There is no seating at Verti Marte, so we got a fried shrimp po' boy to go, intending to eat it later back in our room as a post-dinner snack.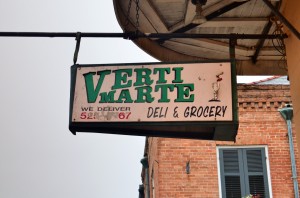 After walking around the French Quarter, stopping for beers to go on Bourbon Street, as well as dinner at Felix's, we ended up back at the hotel. In the interest of full disclosure, this was also the night we picked up two dozen charbroiled oysters from Drago's. Quite the little piggies we are! Even though we were already full from the first dozen charbroiled oysters, I was looking forward to cracking open the Verti Marte po' boy. I was worried that it would be a soggy, disgusting mess from being left in the bag for several hours while we were out and about, but to our surprise, the sesame seed-studded bread was remarkably fresh. While the shrimp were no longer hot and crispy, as I'm sure they were when the sandwich was first made, they were still plump and delicious.
The best part of the po' boy was definitely the shrimp, which were large specimens coated with a tasty, well seasoned breading. The sandwich was dressed with lettuce, tomatoes, and mayo, which helped prevent the shrimp from drying out but didn't overwhelm the flavor. We were shocked by just how good this po' boy was, even though it was cold and had been sitting around for hours.
The next morning, we ventured further out to the Uptown area of the city to check out Domilise's Po-Boy & Bar. Michael, the concierge at the Hilton Riverside, who was our inside source of restaurant information, said that while it was a neat place to check out, the po' boys were just ok. His assessment was pretty spot-on.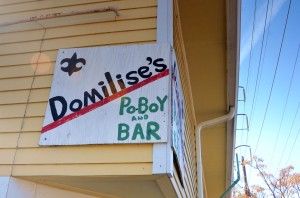 Domilise's is located in a pretty residential area, surrounded by private homes. It was a bit of a hike from the St. Charles Streetcar, but we enjoyed seeing parts of the city that most people do not experience outside of the French Quarter. The decor at Domilise is part of its draw – there are photos of patrons hanging on the walls going back many years. Some are recognizably famous (the Manning brothers feature prominently, which is cool for Giants fans such as ourselves), most are not, but one could spend hours poring over each photo.
We ordered our po' boys up front at the counter by the fryers, and drink orders are placed at the bar. When our sandwiches were ready, we picked them up at the counter. We decided to split a large roast beef po' boy and a large fried shrimp po' boy. Each sandwich came in three pieces and was way more food than we needed; a small would have been plenty of food. The roast beef was dressed with mayo, lettuce, pickles, yellow mustard, creole mustard, and gravy. Sadly, the beef was extremely dry. The gravy was tasty, and I liked the kick from the creole mustard, but the dressings did little help with the poor texture of the meat.
The shrimp po' boy fared slightly better, but not much. The shrimp were freshly fried and crispy, but they were small and tasteless, not at all like the shrimp on the Verti Marte po'boy. All I tasted was the breading on the shrimp, which wasn't very seasoned, and not the actual shrimp themselves. The sandwich was dressed with mayo, lettuce, pickles, ketchup, and hot sauce. I thought the ketchup was a bit weird but I didn't mind it. I did end up adding more hot sauce, as well as some creole mustard, to the po' boy to try to bump up the flavor a bit.
After Domilise's, we stopped in for lunch at Casamento's (if you consider our po' boys "breakfast"), and then took a long walk back downtown on Magazine Street. It's a neat street, with lots of cute shops and galleries and tons of restaurants and bars mixed in with some beautiful residential homes. Back in the French Quarter, we walked around, took some pictures, had a drink and snack at the Napoleon House, and then decided to stay in for the night. We picked up a few provisions, including another fried shrimp po' boy from Verti Marte. Again, it was a few hours before we ate it, but again, it was still really delicious.
The second leg of our trip was Lafayette, Louisiana, which is about a two hour drive from New Orleans. We picked up our rental car on Wednesday morning and decided to check out a few places in the Mid-City area before leaving town. After an incredible fried chicken "breakfast" at Willie Mae's Scotch House, we stopped at Parkway Tavern & Bakery and picked up a roast beef po' boy and a fried shrimp po' boy to go, intending to eat them on our drive to Lafayette.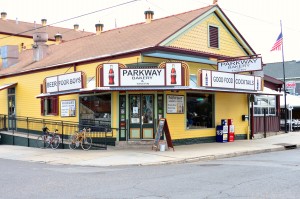 Then we immediately headed to Liuzza's By The Track to try out their famous BBQ shrimp po' boy.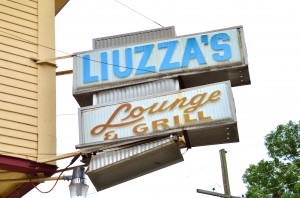 New Orleans style barbecued shrimp is not as it sounds. I looked up recipes after our trip because I was completely befuddled by it. It's neither grilled nor smoked. Rather, it just means that the shrimp is cooked in a sauce made with tons of butter and Worcestershire sauce, as well as creole seasoning, garlic, and lemon. On paper, it sounds fantastic. However, I just found the sauce to be oddly thick, oily but not buttery or rich, and surprisingly bland. I guess there was a hint of garlic, but not much. I made sure to stir up the seasonings that had settled on the bottom and it was still pretty flavorless.
We actually got the po' boy to go because J was already asleep in the car, but we ate it immediately sitting outside the restaurant so I don't think the integrity of the dish was compromised. We got a container of the shrimp in the sauce and a hollowed out roll of crusty french bread separately, so that it wouldn't get soggy. I spooned the shrimp and sauce into the bread to form the po' boy. They definitely gave us tons of shrimp, more than could fit into the bread, but we just didn't enjoy the flavor of the sauce.
We also got a cup of their creole gumbo, which is made with a dark roux and contains shrimp, sausage, and chicken. This was pleasantly complex and hearty. I could see eating a lot of this on a cold day with some of their excellent french bread.
We were kind of disappointed by the BBQ shrimp po' boy so we decided to try out Parkway's roast beef po' boy before we officially hit the road. The regular-sized po' boy (not the large) was huge and probably weighed about a pound. There was a ton of roast beef spilling it, and it looked very promising. The beef shredded easily, like the debris at Mother's, and was dripping with gravy. Unfortunately, the meat was incredibly bland. The standard dressing of shredded lettuce, tomato, and mayo did little to help the issue. What the sandwich needed was a good dose of salt, and maybe some of that tangy slaw that Mother's uses on top of their roast beef po' boys.
We ended up not eating Parkway's fried shrimp po' boy until later that night in Lafayette, as a sort of midnight snack in our hotel room, which meant it was sitting around for a while. Fortunately, it was still very good. The bread definitely suffered and was a bit of a soggy mess, but the shrimp were still tasty. They were large, not overly breaded, and well seasoned, giving the po' boy more flavor than its roast beef counterpart. I'm sure if we had eaten it fresh, it would have been even better.
So the final verdict? Mother's took the roast beef po' boy title pretty easily. The beef was tender, the gravy was flavorful, and that tangy, crunchy slaw just put it over the top. Parkway's roast beef had the potential to be a great po' boy, as their sandwich had the most meat and was probably the best quality, but the meat was just way under seasoned and basically flavorless. Domilise's roast beef was simply too tough and dry, though I liked the combination of mustards and mayo in their dressing.
In terms of shrimp po' boys, Verti Marte was the clear victor, hands down. Their fried shrimp po' boy was so good that we ate it twice, cold both times, and loved every bite. I would go back there in a heartbeat, and maybe try to eat it hot next time, standing outside the store. They had the largest shrimp and the most seasoned breading. Parkway's fried shrimp po' boy was also delicious cold, though the bread suffered a bit. The shrimp were the second biggest and also well seasoned. Domilise's fried shrimp po' boy was clearly at the bottom of the pack, with small, overly breaded shrimp that lacked seafood flavor.
The BBQ shrimp po' boy from Liuzza's By The Track was a bit of an outlier, as it was vastly different from the fried shrimp po' boys, and it was probably my least favorite sandwich out of the bunch. I really was just not a fan of the New Orleans style barbecue sauce, but that's just a personal taste.
Po' boys are everywhere in New Orleans, and I'm sure there are plenty of great places that we didn't get to try. Based on our experience, I think Mother's has pretty good food and is a NOLA institution that shouldn't be missed, and Verti Marte is one of those hidden gems that you would only find out about if you talk to the locals. Both are worth a visit if you're in town.
Mother's Restaurant
401 Poydras St.
New Orleans, LA
Verti Marte
1201 Royal St.
New Orleans, LA
Domilise's Po-Boy & Bar
5240 Annunciation St.
New Orleans, LA
Parkway Bakery & Tavern
538 Hagan Ave.
New Orleans, LA
Liuzza's By The Track
1518 N Lopez St.
New Orleans, LA