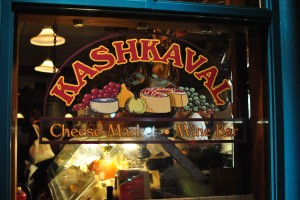 Kashkaval is a Mediterranean cheese market and wine bar that I had been meaning to try since we moved into our neighborhood but we never got around to it. We passed it all the time though and it always looked busy. One weeknight Josh and I were meeting our friends Shiraz and Nicole for an early dinner so I suggested Kashkaval, hoping that we'd be able to just walk in. Luckily they had one table available that wasn't reserved until 9:30 pm so we had plenty of time to grab a bite to eat.
The front of the restaurant is the cheese market, and they sell assorted breads, meats, salads, and dips as well. The dining area is in the back and it's quite cozy, with exposed brick walls and lots of wine bottles on display. Tables are packed in and close together but fortunately the table we got was actually a large booth tucked in the corner so we had plenty of space for the four of us.
We ordered a bottle of wine to share, an Argentinean malbec. It was one of the cheaper options on the menu but was perfectly drinkable. We decided to share a large sampler platter of cold Mediterranean tapas, which allowed us to choose up to six of the appetizers/dips/salads that were on the tapas list. We selected the spicy walnut pepper spread, stuffed grape leaves, baba ganoush, red pepper spread, lentil salad, and beet skordalia. It was hard to choose because there were so many options that looked appealing.
My favorite items on the platter were the stuffed grape leaves, which were soft and flavorful, the baba ganoush, which had a nice smokey eggplant flavor, and the spicy walnut pepper spread, which was an interesting spicy/tangy/nutty combination. The red pepper spread was pretty tasty as well, but the beet skordalia didn't have enough beet or garlic flavor (I think I prefer potato skordalia), and the lentil salad was slightly bland. The menu said the large platter would serve 3-5 people, which is about right. They bring you baskets of of whole wheat pita bread to dip and spread with, and the carbs help to fill you up.
Since this restaurant was also a cheese market, we definitely wanted to try out one of the cheese fondues. The special fondue of the day, made with Danish fontina and raclette, was our first choice but unfortunately they had run out of it. We settled instead for the kashkaval fondue, figuring that if the restaurant is named after this particular type of cheese, it must be pretty good. We decided to get an order for two instead of four, since we had ordered that large sampler platter. The fondue came with cubes of baguette for dipping.
The kashkaval cheese had a nice nutty flavor to it and a great, elastic stringy texture that made it fun to dip into. We were able swirl lots of cheese around each piece of baguette, which was a good thing. The fondue was slightly greasy, though I'm not sure if it was the cheese or the olive oil they mixed into it. It did soak into the bread but that just gave it a nice buttery flavor. Towards the end, however, the cheese definitely seized up and became super hard so we sadly had to stop dipping and leave behind a fair amount at the bottom of the pot.
Overall I really liked the food and the atmosphere at Kashkaval. It did have a wine bar kind of vibe to it but was still low key, which I prefer. Tables were pretty tight together but it wasn't overly loud; we were able to carry on a conversation fairly easily. There were a lot of choices with regard to tapas and cheese/meat platters but there weren't too many main entrees available. I didn't mind though because we just shared a bunch of stuff, which meant that we got to try a lot of different things. Prices are pretty reasonable, with the large sampler platter costing $18 and the fondue was $24 ($12 per serving). With wine, plus tax and tip, it came out to about $25 per person, which isn't too bad. I definitely plan on going back so that I can try more items from the tapas list!
Kashkaval
856 9th Ave. between 55th and 56th St.
New York, NY