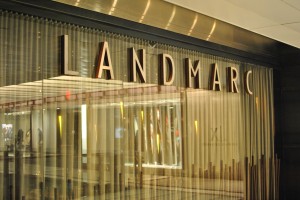 Josh and I recently went to dinner at Landmarc in the Time Warner Center with Felipe and Silva in honor of Felipe's birthday. We've eaten at the original Landmarc downtown in Tribeca, but that was several years ago, though the menu still looks pretty much the same. The restaurant doesn't take reservations for groups of fewer than six but we were able to get a table right away. It was sort of surprising considering it was prime dinner time on a Saturday night, but the restaurant is absolutely huge and has plenty of seating.
It was a bit loud by the bar but we were seated in a far corner so we could still carry on a conversation easily. We ordered a bottle of carmenere to share and settled in to enjoy our meal. The bread basket consisted of a loaf of chewy bread that had a relatively crispy crust and a slightly sour tang. There was a bottle of fruity olive oil on the table, which we drizzled over the bread.
We decided to all share the crispy prosciutto and fontina flatbread for our appetizer. The flatbread was a bit floppy but had a nice chewiness to it, and it was sturdy enough to hold up to the toppings. It was draped with melted fontina cheese,  bits of crispy prosciutto, fresh baby arugula, and oven roasted tomatoes. It was a nice combination of salty and sweet, though I wish there was a bit more prosciutto in the mix.
Felipe highly recommended that we try the burger so both Josh and I decided to order it. He added gruyere to his while I kept mine plain. My burger was cooked as requested, to a nice medium rare. The middle was still pink, and there was a decent sear on the outside. The meat was well seasoned and very flavorful, with an earthy, aged quality to it. I thought the bun would be too dry and flaky but it was pretty soft and non-obtrusive, as a bun should be. The burger came with tomato and pickles on the side, plus a small salad and thicker cut french fries. The burger wasn't huge but it was definitely rich, and I was incredibly full by the time I finished. I didn't even eat all of my fries!
Josh's burger had a thick layer of gruyere melted on top – I couldn't believe how much cheese there was! He ordered his burger rare but found it a bit too mushy for his liking. The burger had a very soft texture to it and was loosely packed so it was kind of falling apart. His was much messier than mine, and somehow he managed to eat all the meat in his burger but left 1/3 of the bun over. Nevertheless, we both enjoyed the flavor of our burgers immensely. The fries were also pretty good, though they could have been slightly crispier. I did like the soft and fluffy potato innards. The side salad was refreshing and a good way to cut through the richness of the burger.
The desserts at Landmarc are pretty small portions that are just a few bites each so we decided to try them all ($4 each or $16 for all six options). We told our waitress that it was Felipe's birthday, so they thoughtfully stuck a candle in one of the desserts. They were all pretty tasty, though the creme brulee was the favorite of the bunch. It had lots of vanilla bean flavor and the texture was silky smooth. The nutella eclair was also a hit, though I wish they had warmed it slightly because the choux portion was a bit cold and stiff. The blueberry crumble, on the other hand, was served hot and was chock full of syrupy blueberries. The chocolate mousse was on the thicker side but had a nice dark chocolate flavor and wasn't too sweet. The tiramisu was fairly standard, but the lemon tart was a good way to finish off – refreshing and tart enough to cleanse our palates.
After we finished our meal, we moved over to the bar area to have another bottle of wine and chat. There are some small round tables by the bar and we were able to snag one quite easily. It was a bit loud but the vibe was still pretty low key. Overall it was a lovely evening with good food and great company. The burger is definitely one of the better ones I've had recently. The $16 price tag may seem a bit high but I think it's pretty reasonable considering the venue and the top notch ingredients. The rest of the Landmarc menu is fairly extensive, with an assortment of pastas, salads, steaks, and assorted bistro-like fare. It's a good place to go with large groups, as everyone will find something they like, plus it has an upscale feel to it without being overly fancy or stuffy. It's definitely a nice restaurant to have in the neighborhood.
Landmarc (multiple locations)
10 Columbus Circle at 60th St.
New York, NY