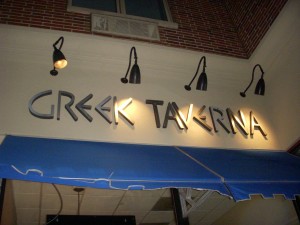 We were visiting our parents in NJ one weekend and decided to try out a Greek restaurant in Edgewater that Josh's parents have been raving about, appropriately called Greek Taverna. From the outside it looks like a tiny storefront restaurant but inside it's large and spacious, with tall ceilings and a casual, slightly rustic feel. It actually did look a bit like some of the tavernas that we ate in while we were on our honeymoon in Greece. The menu was quite extensive and there were lots of things I wanted to try, but because it was a Friday during Lent, I was limited to only seafood and vegetarian options.
The restaurant is BYO and they brought us wine glasses right away and opened up our bottle of red wine. They also brought us a basket of grilled pita bread to nibble on while we looked over the menu. The bread was served warm and had a nice soft and chewy texture to it.
We shared a few different appetizers, including a special of the night, which was a huge platter of grilled octopus, calamari, and seppie (cuttlefish). All of these have the potential to be tough, chewy, and rubbery, but they were all perfectly prepared and very tender. They had a nice smoky flavor and slight charring from the grill. My favorite pieces were the tiny seppie, which I popped into my mouth whole and they just burst with the fresh taste of the sea.
We also got a beet salad topped with skordalia, a garlic and potato dip with lemon juice and Greek olive oil. Again, the serving was huge and the salad was fantastic. The beets were tender and flavorful, nicely dressed with red onions, pickled garlic cloves, and a tangy vinaigrette. The skordalia packed another tangy, garlicky punch, and the combination was just delicious. This was my favorite dish of the evening.
Our last appetizer was the Greek Taverna chips, which are fried zucchini and eggplant chips served with a ramekin of skordalia for dipping. The chips were cut super thin, lightly breaded, and fried to a nice crisp. The coating was not greasy at all, and never got soggy even after the chips sat for a while on the plate. I didn't realize that the dip on the side was skordalia until it was too late; otherwise, I might have asked to change it to tzatziki (shredded cucumbers, yogurt, dill, and garlic dip), as we already had skordalia with the beet salad. I also think the lighter tzatziki would have been a better match for the fried chips. Nevertheless, it was a great appetizer to munch on, and we kept the plate on the side to snack on throughout our meal.
I really wanted some of the grilled meats that were giving off tempting smells from tables nearby but I had to stick with seafood. The restaurant offers fresh whole fish at market price, which they serve grilled with olive oil, lemon, and herbs drizzled on top. I wasn't so familiar with most of the fishes offered so I opted for the Royal Dorado, which is a Mediterranean fish with a mild flavor. It was a flaky but meaty fish, and definitely wasn't too fishy in flavor. I liked the flavor of the olive oil/lemon/herb mixture, but the fish just needed a bit more seasoning in general.
For my side dish, I selected the Greek Taverna fries, which were thin slices of fried potato topped with oregano and Kefalo tyri cheese. The fries weren't as crispy as I would have liked but they were well seasoned and flavorful.
Josh also opted for a whole fish and greek fries, except he chose a special of the day, the branzino. His fish was prepared the same way and had similar flavor. I'm not a fish connoisseur so I probably wouldn't have been able to tell our dishes apart.
Overall I really liked all the food that we had at Greek Taverna. All of the ingredients were clearly fresh, and everything was well prepared. The menu is similar to that of Nisi Estiatorio in Englewood, except everything is priced much lower. Nisi is more of a fine dining experience though, and you get to pick out exactly which fish you want, which I think affects the pricing. Greek Taverna is more low key and casual, but the food is just as good. Portions are huge and everything can be shared, making it a better deal in my opinion and good for large groups. The BYO aspect is another bonus. I can't wait for our next visit to the restaurant, and now that Lent is over, I definitely plan on trying some of the grilled meats that smelled so irresistible.
Greek Taverna (multiple locations)
55 Promenade, City Place Shopping Center
Edgewater, NJ