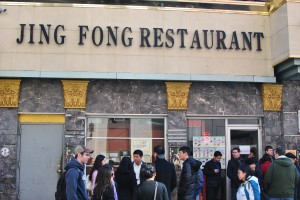 I can't believe it's taken me this long to write about Jing Fong, the ginormous dim sum restaurant in Chinatown, considering that it's a place that has a lot of meaning for me and Josh. It's been our go-to place for dim sum ever since we moved into the city, and was where we ate right before Josh proposed. It is also where we held our rehearsal dinner the night before our wedding, a banquet style dinner that resulted in a lot of people eating jellyfish, accidentally mistaking the long chewy strands for noodles (we didn't tell them what it was until after they ate it and enjoyed it). As with most of our favorite Chinatown destinations, since we've moved uptown, we just haven't been around as often. Josh had a coworker in town one Sunday who wanted to try dim sum, so we knew exactly where to take him.
Dim sum at Jing Fong on the weekend is pretty crazy. If you don't get there early enough, there's a huge line, which is impressive considering how BIG the place is. Luckily we got there in time and were seated right away. There was a pretty long wait by the time we left though. Once you get up the escalator, it's just a massive space packed to the brim with tables, all of which are full. If you have a small group (ie., 2-3 people), you generally end up having to share a table with other people. It's not too awkward, the tables are big and you can either talk to your table-mates or not. We've experienced it both ways.
Ideally you want to sit near the kitchen (the right side of the long room, parallel to where the escalators are) because the carts that come out there have the freshest food and are stocked with more items. When you end up in the far corner away from the kitchen, usually you're options are mostly just tripe and chicken feet, which isn't bad if you like those items. Otherwise, you have to go with the aggressive route, which is taking your "scorecard" and waiting with a bunch of other people outside the kitchen, waiting to pounce at the carts as soon as they come out. Then you just have to carry your steaming baskets back to your table. There's also a long table set up in the middle of the room, by the back wall, where they have prepared foods such as sauteed chinese broccoli or steamed clams in black bean sauce that you can pick up. Just remember to take your card with you!
We were a group of five so we wound up with our own table, in the right hand corner just opposite the kitchen. It was a pretty good spot, and there were lots of carts coming around. We basically just pointed at whatever looked good, keeping in mind that one person in our group was a pescetarian, so we got a lot of shrimp and/or veggie items. Here's a rundown of what we got:
We actually got a few orders of each dish so we were pretty stuffed by the end of our meal. I was actually hoping to get some tripe, which they prepare very well at Jing Fong, but sadly it never came around. We did see and pass on chicken feet though. I also wanted some egg tarts for dessert but all the dessert carts were pretty bare by the time they got to us, so we settled for the sesame balls.
The ladies who push around the dim sum carts don't speak a lot of english, but we managed to get by with a mix of english and my mangled mandarin. When you pick out the stuff that you want from the cart, they put stamps on your scorecard indicating the number and the size of the dish you picked. I don't know how much each dish is, but our bill for all the food was ridiculously tiny. After tax and tip, I think we each paid about $12. Service is a bit brusque but efficient. They kept our teapot filled and gave us a pitcher of ice water for the table when they saw how thirsty we were. They also cleared our table of empty steamer baskets frequently.
There are lots of dim sum places in the city with varying reviews and we haven't tried them all.  Jing Fong, though, is always a great experience. When we take people there who have never been, they are always shocked by the size of the restaurant and by the number of people packed in. There's always lots of variety, and the food is usually fresh because of the high volume and turnover. If you're patient, you can usually get the dishes you want. The key is to show some restraint initially, and not just pick out a million things from the first cart you see simply because you're hungry. The carts come by frequently, and each lady usually has different items on her cart. While there may be other dim sum parlors we want to try in Chinatown, we'll always come back to Jing Fong. Not only is the food good, the restaurant has sentimental meaning for us. Maybe that makes us a bit partial, but just give it a try if you've never been – it's always a fun time.
Jing Fong
20 Elizabeth St. at Canal St.
New York, NY