We had a relatively low key morning when we woke up on our catamaran, as we were still docked at Sun Island. We had the option of going into town early in the morning but Josh and I opted to sleep in instead, which was a luxury for us considering all of the early wake ups we'd been having. Then we were able to enjoy a long breakfast while the boat sped off back to Copacabana.
Back in Copacabana, we split up from the Australian couple as they were headed to La Paz (lucky!) and we were returning to Puno.
The tour company had arranged for us to leave at 4 pm, and considering it was only about 10 am and we had already seen most of Copacabana, we opted for an earlier bus at 1:30. Our guide suggested that we walk to the top of a large hill that overlooks the city, called Calvary Hill. There are many many steps that go up, and along way are the different stations of the cross. On Good Friday, there is a procession that goes up the hill with someone carrying a large cross to replicate the passion of Jesus.
Sadly, we were completely winded by the stairs and only made it halfway up the hill before we called it quits. We had been stopping at every station to catch our breaths, and we calculated that we wouldn't have enough time to make it to the top and then back down before we had to catch our bus. At the midway point there was a lookout that gave us a nice view of Lake Titicaca, as well as an encompassing view of of the city.
It's a good thing we turned around when we did because surprisingly, it was harder to go down. The steps were pretty steep and super slippery. It was a struggle not to fall on our rear ends so we slowly inched our way down. We definitely would have missed our bus had we continued all the way to the top.
When we got back on flat ground, we went back to the Basilica to see the black Madonna, a famous statue of the Virgin Mary made out of dark wood. We didn't have much time to admire the statue though, because they were preparing for a wedding in the church. On our way out we passed the bride who was resplendent in white. We tried to see an Inca site but it was up another hill and we knew we'd never make it. We headed back to the center of town to check out a local agricultural market. We also did a little souvenir shopping and just walked around for a little while.
Lunch was included for us at a little restaurant across the street from the tour company's office. I was a little worried because we were only allowed to choose from the set menu of the day, not the regular menu. The set menu included soup, entrees of the day, and dessert, all for 25 bolivianos, which is about US$3.50. The rest of the menu was pricier so I couldn't imagine that we'd get a good meal for $3.50. For the entree, we had a choice between beef, trout, and spaghetti bolognese. We had no interest in the bolognese so we opted for beef and trout.
The soup was an Andean soup with assorted vegetables, grains, and pieces of beef. I was worried that it would have mint in it but it was actually very clean tasting and refreshing despite the heat.
They also gave us a small loaf of bread to munch on, which was accompanied by a super spicy tomato salsa.
The trout entree was pink trout from the lake and it was a huge filet just simply grilled. It was nicely seasoned and surprisingly really delicious with just a squeeze of lime over the top. It came with a side of french fries that were a tad starchy but not bad.
The beef was also simply grilled and perfectly seasoned. It was slightly chewy but the flavor was terrific – really beefy. Overall we were pretty pleased with both entrees.
Dessert was a simple scoop of strawberry ice cream topped with chocolate sauce, which was perfect on a hot, sunny day.
After lunch, we took a bus back to Puno. Sadly, no one picked us up from the bus station so we took a cab back to our hotel. We were in a rush because we wanted to take a tour of the floating islands and we weren't sure what time tours ended. We asked at the front desk and they managed to arrange a private tour for us that conveniently left from the dock behind our hotel.
Our guide was a native of the floating islands, which was pretty cool. He told us a bit about the setup of the islands, which are actually pretty incredible. They are made out of reeds from the lake and there are homes, stores, restaurants, and a school on these islands. Each individual island is home to about six families, and they travel from one island to another using reed boats.
We stopped off at one island where we met the president, who demonstrated how the islands are actually made. Basically blocks of reeds and roots are tied together, then topped with layers of cut reeds. The reeds need to be replaced every two weeks, which just seems to be a crazy amount of work.
We took a tour of a home on the island and dressed up in native clothing. The people were so friendly and so excited to be with us, especially the children.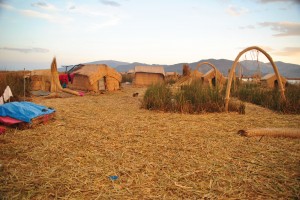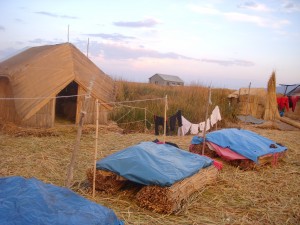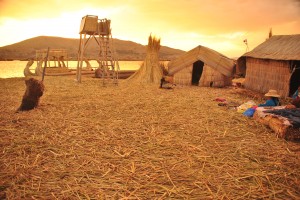 We hopped into a reed boat to visit another island, and everyone sang "Row, Row, Row Your Boat" to us in several different languages. A few of the children came in the boat with us and played around us. They were absolutely adorable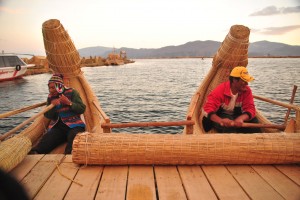 The reed boat dropped us off at a different island that had a hotel (really just a room), a grocery store, and a restaurant.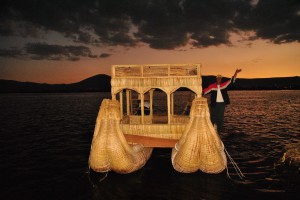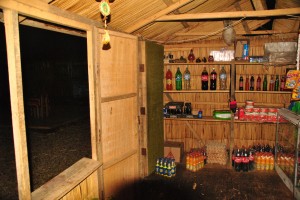 It was pretty dark by the time we finished touring the second island so we hopped on our boat and headed back to our hotel. The floating islands really are an incredible place, and I was happy that we were able to book our own tour last minute. They were definitely the highlight of Puno. Even now when I think about all those happy and excited children, they just bring a smile to my face. Tourism is obviously a big factor in helping these islanders sustain their way of life so I encourage everyone to visit these floating islands and see for yourself just how amazing these people are.