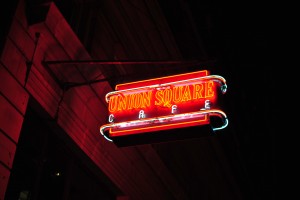 The Union Square Cafe consistently ranks as one of the most popular restaurants in NYC, according to the Zagat Guide. For years, Josh and I have been saying that we wanted to try it but could never get a reservation for when we wanted to go because we didn't make the reservation early enough. For our 13th anniversary, Josh surprised me with a coveted USC reservation. Both of us were super excited about the meal because we had read really positive things about the restaurant, and being that it's part of Danny Meyer's restaurant empire, we expected great service as well.
There were lots of things on the menu that we wanted to try, so picking our dishes was quite a difficult decision. We debated for a while before finally settling on two appetizers, a shared pasta mid course, and two entrees. After a celebratory cheers with a lovely red wine that Josh picked out, we attacked the bread basket with gusto. There were two mini baguettes that were pretty tasty, with a crackly crust and airy insides. There were also two slices of wheat bread that I wasn't crazy about because they were kind of cottony and dry in texture. Lastly, there were pieces of large, crispy rosemary crackers that needed just a touch of salt but were otherwise delicious. The baguettes were my favorite, though I found the crackers pretty interesting.
We also received a small bowl of briny olives that were flavored with citrus peel. The flecks of orange and lemon zest were very nice touches and gave each olive some unexpected zip and sweetness. It's a neat idea that I think we can replicate at home.
For our first course, Josh and I split the spanish mackerel crudo and the shrimp and sunchoke bisque. The crudo was beautifully cut and presented, featuring artichoke puree, olive tapenade, and chili oil. Mackerel is usually a pretty fishy fish but this one was surprisingly light, though perhaps a bit low in flavor (I actually enjoy the oily fishiness one usually associates with mackerel). Fortunately the accompaniments were delicate enough not to overpower the crudo, even though one would also expect bold flavors from olive tapenade and chili oil. When everything was eaten together, it all worked well and it was very refreshing. I did think the portion was a bit small though, with just four little pieces of fish.
The shrimp and sunchoke bisque was rich and creamy, as one would expect. There was a deep shrimp flavor and a slight toasty-ness/smokiness that was a bit unexpected. It was a well-crafted soup, though not particularly exciting.
For our pasta mid course, we split an appetizer order of winter greens ravioli with preserved lemon, garlic breadcrumbs, and pecorino romano cheese. The appetizer portion came with four plump raviolis that were just bursting with flavor. The winter greens tasted fresh, the lemon added a brightness, and the breadcrumbs were little crunchy garlicky bits. The dish was beautifully composed, perfectly seasoned, and everything was harmonious.
For our entrees, we split the grilled smoked shell steak and the pan seared venison loin chop. I had never eaten smoked steak before, and even though it looked like a normal, perfectly cooked steak, the flavor was like nothing I had ever tasted. It was extremely smoky in flavor, almost tasting a bit like ham. It was really unusual, but still tender and delicious. The steak was served with roasted cauliflower and bone marrow mashed potatoes that were just out of this world. The bone marrow flavor was really apparent, adding a lovely richness to potatoes. Even though I couldn't finish my share of the steak because it was such a big portion, I couldn't stop eating the mashed potatoes.
The venison was also beautifully cooked, a perfect medium rare on the inside. It was just slightly gamey (I like gamey), and paired wonderfully with the accompanying huckleberry gastrique that added just a bit of sweetness. The venison was served on a bed of a rich and creamy risotto and topped with a light shaved brussels sprout and apple salad. It was also a hearty, rich entree, generously portioned, and we had a hard time finishing this dish as well, though we both enjoyed it immensely.
Our eyes turned out to be bigger than stomachs, and we were both too full for dessert. Our waitress was disappointed when we turned it down, and ended up bringing us a box of cookies to take home with us in honor of our anniversary. It was an incredibly sweet and unexpected gesture (apparently she had overheard our toast at the beginning of the meal), and we enjoyed the cookies the next day.
There were many different types of cookies, including a chocolate biscotti, a pistachio biscotti, a chocolate chip cookie, a chocolate chocolate chunk cookie, a peanut butter sandwich cookie, maple pecan shortbread, a macaroon, a blondie, and a brownie. Of course I had to taste each one, and all were delicious. The pistachio biscotti and the peanut butter sandwich cookie were my favorites.
Overall Josh and I were extremely pleased with our meal at the Union Square Cafe. The food was delicious, and everything was meticulously prepared. We both loved the pasta course, as well as our entrees. While the appetizer portions were a bit small, the entrees were huge, and we were stuffed when we left. There were still lots of things on the menu that we wanted to try so I'm sure we will be back. Our dinner wasn't cheap but prices were definitely reasonable enough that maybe we won't have to wait for a special occasion to go next time. Service was wonderful, exactly what you would expect from a Danny Meyer restaurant. Our waitress was helpful and attentive, answering all of our questions and checking up on us to make sure we were enjoying our meal. It was a great experience and I would definitely recommend checking it out – it's worth it.
Union Square Cafe
21 East 16th St. between 5th Ave. and Union Square West
New York, NY