Sadly, day 5 was our last day in Grand Cayman. Most of the crew left after breakfast so we said our goodbyes over waffles at the Comfort Suites. Josh and I had booked a flight in the late afternoon so that we could have some more time to explore the eats on the island. The main item I wanted to try was marinated conch, which is sort of like conch ceviche. I asked the woman at the front desk for recommendations and was told that it wasn't conch season so she didn't think we'd be able to find it anywhere. Drat!
In the hotel lobby, there were copies of a magazine that had menus from several dozen restaurants. While Josh packed up our stuff, I combed the magazine from cover to cover in search of a place that listed marinated conch. I found it on the menu of a restaurant at the other end of Seven Mile Beach called Alfresco. When we checked out, I asked the woman at the front desk if she would call the Alfresco to see if they were indeed serving marinated conch that day, as I didn't want to make the trip out there for nothing. She made the call and gave us the thumbs up, so off we went.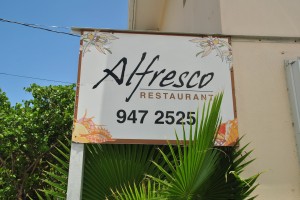 We headed up West Bay Road and caught a bus almost immediately. The driver knew where Alfresco was and dropped us right in front. The restaurant has two seating areas, one inside and one outside. We checked in with the waitress inside, who told us to sit anywhere we wanted, so we headed for the outdoor area which is a deck right along the beach. The view was simply stunning, and there were umbrellas and trees around to keep us in the shade.
Even though it was pretty early in the day, I ordered a frozen strawberry daiquiri to drink. Hey, it was our last day of vacation! Josh got a Caybrew, and we sat back to enjoy the view. We saw Eric (one of Josh's former coworkers who we were hanging out with all week) walking up the beach and called him over. He apparently had taken a stroll along the entire length of Seven Mile Beach (which is really only about 5.5 miles), and he definitely looked like he needed to sit down and drink some water. He ended up joining us for lunch on the deck.
My bad luck with restaurants continued, as we learned from the waitress that their fryer was broken. This meant that I couldn't tried cracked conch, another Cayman specialty that is kind of like fried calamari, but with conch. They also only served turtle on Fridays, and it was Sunday. At least they had the marinated conch though, which was our whole point of going to that particular restaurant. Since it was early, and we had just eaten breakfast, we decided to stick with just the marinated conch while Eric ordered a jerk chicken sandwich.
The marinated conch was prepared in a traditional style, with strips of peppers and onions and mixed in a spicy tomato sauce. The conch itself didn't have too much flavor, but it did have a chewy yet crunchy texture that I enjoyed. It reminded me a bit of the texture of jellyfish, which I love. The sauce wasn't too spicy, more sweet and tangy. Josh thought it was a bit too ketchup-y but I didn't mind. The conch was served with saltine crackers, which was an interesting combination, though I preferred eating the marinated conch on its own. It was a refreshing dish on a hot day.
I was disappointed that we weren't able to try cracked conch or some form of turtle, but I did enjoy the marinated conch. I think I was expecting more of a traditional Peruvian style ceviche, which is marinated in citrus, but this was an interesting dish. I liked the ambiance at Alfresco, and the view on the deck really couldn't be beat. Eric enjoyed his jerk chicken sandwich immensely, so I think Alfresco is definitely a place worth checking out. The menu was pretty reasonable, with most dishes under C$15.
After we paid our bill, we went down to the beach to take some more photos before heading back to the road to catch the bus. While we were waiting for the bus, we saw a green iguana sitting in a tree above us, which was pretty neat.
We ended up catching the bus heading in the wrong direction, but the driver said we were near the end of the line and he would be turning around soon. It gave us an opportunity to see a bit more of the island so I didn't mind. The turnaround point was Boatswain's Beach Adventure Park and Turtle Farm. Funny story about the farm – one of my coworkers went to Grand Cayman as part of a Caribbean cruise. They took the excursion to the turtle farm, except she thought it was for turtle conservation. They went through the tour and saw all the baby turtles, etc., and at the end of the tour, they asked her if now she wanted to taste turtle. Needless to say, she was shocked, and only then realized that it was a farm, not a conservatory.
I wish we had time to visit the farm, but we had to get back to the hotel to pick up our bags and catch a cab to the airport. We had to make a stop first at the Beach Suites to pick up our camera battery charger from the front desk, and ended up walking back to the Comfort Suites via the beach one last time. We walked quickly, as we thought we were running late and we had been told that the airport in Grand Cayman gets really packed on Sundays so it takes a long time to get through security. We shared a cab with Eric and arrived at the airport only to find that our flight had been delayed several hours. Awesome.
So it turned out we had plenty of time, and got through security pretty easily. We did a little duty free shopping to kill some time. Josh bought a nice rum, a nice scotch, and a bottle of cheap rum for me. We also picked out some rum cakes, a Grand Cayman specialty. Tortuga is the name brand of rum cakes, but we opted for the cheaper Blackbeard brand. We did pick up a mini Tortuga rum cake and plan on doing a taste test to see how different or similar the two brands really are.
When we checked into our flight at the desk, they told us that no meals would be served on the plane so before we boarded, we picked up some Jamaican patties to go. They only had chicken left, and only one that was the local Cayman Island Taste brand. The other was a Jamaican brand, though I don't remember the name. The two brands were actually pretty different. The Island Taste patty had a richer brown sauce in the filling, while the Jamaican brand had more of a classic yellow curry flavor. Both had flaky pastry crusts, and I enjoyed both of the patties.
The flight home was pretty uneventful. Ironically they did end up serving food on the plane, some jerk chicken that was nowhere even close to Seymour's jerk chicken. I stuck with the Jamaican patties. We arrived back in NY much later than we planned since our flight was so late. We quickly got in a cab, eager to get home, and wound up with the worst driver ever. He missed the exit for Manhattan and ended up driving us 20 minutes into Long Island before figuring out how to turn around. He also had no concept of changing lanes, and would almost come to full stop on the highway when it was time to switch. I was terrified the entire ride.
We finally got home much, much later than expected, finally concluding our five day trip to Grand Cayman. We had a blast hanging out with everyone and were thrilled to take part in Claire and Sean's wedding. It was definitely a trip we'll always remember, full of good food, great fun, and even better company.
Alfresco
53 Town Hall Rd., West Bay
Grand Cayman