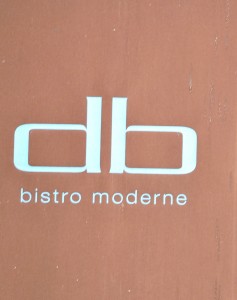 I apologize for filing this post so late. I usually try to write up Restaurant Week reviews right away, so that people can still have time to make a reservation if they think a place looks interesting. Restaurant Week has been extended a few weeks, but unfortunately, this particular restaurant is not participating past the original two weeks. Still, it's a place you can consider for Summer Restaurant Week when that rolls around.
We've been so busy lately that Restaurant Week sort of snuck up on us this year. We got a late jump on making reservations so there weren't too many prime lunch spots available but we managed to get a somewhat decent time at DB Bistro Moderne, which is part of Daniel Boulud's restaurant empire. There was a snowstorm the day of our reservation so when we got to the restaurant, it was almost empty. The place did fill up completely by the time we left though, so people were probably just running a bit late.
I always like to review Restaurant Week menus online before I decide where to go, so we knew beforehand exactly what we wanted to order. We made our selections and quickly dove into the container of bread we received, which contained two ciabatta rolls and two slices of wheat bread. The ciabatta rolls were delicious, with a nice crackly crust and a chewy but airy interior. The wheat bread, on the other hand, wasn't my taste. It was kind of dry with a cottony flavor, and not even copious amounts of butter could salvage it for me. We stuck with the ciabatta bread.
As usual, Josh and I went halfsies on all of our dishes. To start, we selected the yellow split pea soup and the salmon tartar. The soup was flavored with ham hock and topped with toasted croutons and olive oil. It had a velvety texture and smoky flavor to it, similar to bacon. However, we both felt the soup lacked seasoning. A little bit of salt really could have elevated it to the next level. Still, we found it pretty rich and comforting to eat on a cold winter day.
The salmon tartar was beautifully presented with a smear of avocado mousse and a salad of frisee and radishes, but it also lacked seasoning. It came with a few gaufrette potato chips on the side that added a nice crunch and a bit of much needed salt, but there weren't enough chips to go with the portion of salmon. And while the salmon were nicely cut into a chunky dice, we thought it was a bit fishy in flavor, maybe not entirely fresh. We were both a little disappointed with this dish.
For our main courses, we selected the roasted monkfish and the braised flat iron steak. The monkfish was served with a piece of crispy bacon and a potato gratin. Josh had first crack at this dish and really enjoyed it. By the time I got to it, however, I thought the texture of the monkfish had suffered quite a bit, rendering it a bit mushy. Josh disagreed and said the fish was firm and meaty when he ate it. We both liked the flavor combination of the monkfish with the bacon, and there was a red wine sauce that tied all the components together.
I started with the braised flat iron steak, which was my favorite dish of the lunch. I'm usually not a huge fan of braised beef but the steak was surprisingly meaty in texture and flavor. When presented, it looked like a regular piece of steak covered in a dark sauce. When I stuck my fork into it, however, the meat was so tender it just fell apart. Flavor-wise, it still had the beefiness of a steak, not the watered down meat that you usually find in a stew or other braised dishes. The steak was served with a sweet carrot puree and sauteed brussels sprouts, baby carrots, and pearl onions. I apologize for the picture – it was a delicious dish but not very photogenic.
Dessert was a surprise hit for us, since neither of us have much of a sweet tooth. We both loved the citrus tartelette with sable breton, frangipane, grapefruit curd, EVO foam, and vanilla ice cream. The dessert had a lot of components to it but when we ate everything together, it tasted just like an orange creamsicle, only fresher and less artificial in flavor. Because the main ingredient was grapefruit, it was also less sweet, but in a good way. Citrus was the predominant flavor, and given the snowy day, it was a welcomed bit of sunshine. We enjoyed the brightness of the grapefruit curd and the supremed slices of actual grapefruit.
The other dessert, called chocolate and coconut, featured coconut dacquoise, caramel fondant, chocolate mousse, and peanut ice cream. It also had a lot of components to it but everything worked beautifully. Chocolate and peanut butter is one of my favorite flavor combinations (who doesn't love Reese's Peanut Butter Cups?), and the peanut ice cream was an interesting twist on that. The coconut and caramel might have been a bit overkill for me, as it was a really rich dessert, but I liked the contrast between the smooth chocolate mousse, the crunchy toasted coconut bits, and gooey caramel, and the cold and creamy peanut ice cream.
Overall we both enjoyed the Restaurant Week lunch that we had at DB Bistro Moderne and thought it was a good value. Sometimes Restaurant Week menus offer subpar items that aren't very reflective of a restaurant's real offerings, but DB Bistro has been consistently good with their Restaurant Week choices. While we found some of the dishes to be under seasoned, it's something that can be easily remedied by asking for some salt for the table. I wish, though, that all restaurants would leave salt on the table by default, so diners don't have to go through the awkwardness of asking for salt. Sometimes that leaves the kitchen a bit defensive, and they may oversalt the next dish to overcompensate. Regardless, with the exception of the slightly fishy salmon, we thought the ingredients used were top notch, and everything was carefully constructed and presented. We've been to DB Bistro Moderne for Restaurant Week several times over the last few years, and it hasn't disappointed us yet. It's definitely a place we'll consider visiting again for more Restaurant Weeks to come.
DB Bistro Moderne
55 West 44th St. between 5th and 6th Ave.
New York, NY