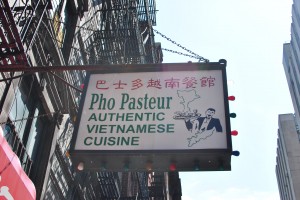 Ever since Josh and I tried out Vietnamese food at Pho Grand last year, we've been eager to explore more of the Vietnamese restaurants in Chinatown. We finally found some free time to head downtown on Memorial Day and stopped into Pho Pasteur to check out the offerings there. The restaurant, which is located on the southwestern edge of Chinatown, was bright and clean and a lot of the tables were full. We got a spot in the far corner and settled in to look over the fairly extensive menu.
Even though the restaurant has "pho" in the name, we opted not to get any because it was way too hot outside to think about drinking a big bowl of hot soup. Instead, we decided to start off with one of the house specials – banh hoi bo nuong, which is barbecued beef that you wrap into rice crepes with rice vermecilli and other garnishes.
The slices of beef were rolled into a tight spiral before they were grilled, and while they were slightly chewy, they had a nice smokey, sweet flavor.
The assorted accoutrement included pickled carrots and daikon, thin rice vermicelli noodles, and lettuce and mint leaves. The pickled vegetables provided a nice crunch, and had a sweet, tangy flavor. I also used a lot of mint in my crepes, which added a fresh brightness to each bite.
We had fun piling on the different ingredients and rolling them into the rice crepes to make our own version of summer rolls. We dipped the rolls into bowls of nuoc cham sauce, a sweet and sour dipping sauce that I really love.
My only complaint about the dish was that the thin rice crepes quickly got glued together on the plate and were hard to separate. While the first few crepes came off cleanly, we really struggled with the rest and ended up tearing most of them. Eventually I gave up on the crepes and wrapped the ingredients in a lettuce leaf, which was still quite tasty.
We also got an order of curry chicken with rice. We were hoping it would be like the curry chicken we had in Singapore and Malaysia, which has a thinner but flavorful curry sauce. However, this version was more like Thai massaman curry. It was a thick brown curry sauce and the chicken was slices of boneless breast meat rather than chicken on the bone. There were also potatoes in the dish, and while I usually like the combination of curry and potatoes, these were a bit undercooked and hard to eat.
Lastly, we got a bun – rice vermicelli noodles – topped with barbecued pork and spring rolls. The pork was delicious, with the same sweet, smokey sauce that was on the barbecued beef, but the meat was more tender and easier to eat. The spring rolls were hot and crispy, though oddly, they had a distinct vanilla flavor to them. I'm not sure what exactly contributed to the vanilla flavor, but it was slightly off-putting for me. Nevertheless, this is one of our favorite Vietnamese dishes, as it is really refreshing and delicious. The ingredients are simple but pack a lot of flavor.
Overall we enjoyed the food at Pho Pasteur, though the curry chicken is a pass. We liked assembling our own summer rolls, and the barbecued pork in the bun noodle dish was fantastic. While I still slightly favor Pho Grand, I would definitely come back to Pho Pasteur, especially to try out their pho when the weather gets cooler. Vietnamese food is quickly becoming one of my favorite types of cuisines, though I think we need to expand our ordering horizons since we always seem to get the same dishes everywhere. If any has any suggestions on what we should try, please let us know!
Pho Pasteur
85 Baxter St. between Bayard and Walker St.
New York, NY