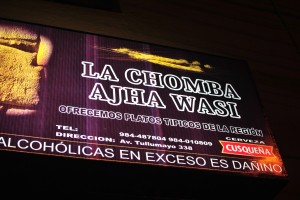 During our tour of Cusco, we made sure to get some local recommendations from our guide. We told him that we missed out on trying chicha, a fermented corn beer, while we were in the Sacred Valley, so he told us about a local place close to our hotel where we could try some. He also told us to try frutillada, which sounded pretty tasty to me.
We found the restaurant easily and there was a sign for it on the street but when we walked through the doorway, we ended up in a little courtyard that seemed to be pretty residential. Fortunately there was another sign posted and we made our way into the restaurant, which was actually larger than it looked on the outside.
It was a super casual place, with long communal tables and stools. Nobody spoke english but we were able to get by. When we ordered a glass of chicha, however, they told us they had run out. Darn! We were extremely disappointed and ordered a glass of frutillada instead, which is basically a non-alcoholic chicha with the addition of strawberries. It's a nice pale pink color, frothy on top, and looks sort of like a strawberry smoothie. The taste, however, was very different. It had a sour, fermented, yeasty flavor, with just a slight sweetness from the strawberries. There was also some sort of seasoning on top that I couldn't identify, as it had an unusual taste. I wouldn't say that I enjoyed the flavor of the frutillada, but it was certainly interesting to try.
While we were sipping the frutillada, one of the restaurant workers came bounding in, holding up a pitcher of chicha triumphantly. I don't know where he went to get some but we were absolutely thrilled. Talk about good service! He poured us a glass and it looked and smelled exactly like what it is – fermented corn beer. It has a pretty low alcohol content but our guide had warned us to drink only half of what they served (the glasses here were huge, bigger than pint glasses) because chicha can be hard on an inexperienced stomach. The chicha was a bit too warm and yeasty for my taste so I stuck mostly with the frutillada, but Josh preferred the flavor of the chicha.
Because we had skipped lunch, we decided to order a dish as a snack to tide us over until dinner, and to coat our stomachs a bit for the chicha. The menu at the restaurant was pretty basic, which we were happy about because we had eaten too much rich food already on our trip. We decided to get an order of chicharron, which is deep fried chunks of pork. It was served on a plate with large corn kernels, potato, and raw red onion. The pork was a bit tough but it had crispy skin, which is always a plus. It wasn't fancy or dressed up in any way, just the perfect food to soak up the chicha.
Our total bill was ridiculously low – just 20 soles (US$7.40). I would definitely recommend checking out La Chomba Ajha Wasi if you're looking for some local flavor in Cusco. It's a no frills place but service was friendly and we were able to try chicha. It would be a good place to sit down for a bit, grab a snack, and drink some cold Cusqueno beers. Many thanks to our guide for the great recommendation!
La Chomba Ajha Wasi
Av. Tullumayo 338
Cusco, Peru