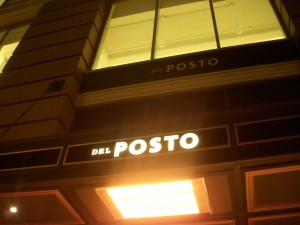 I've been wondering when the news that the Enoteca at Del Posto had closed would finally break. Mario Batali made the announcement last Thursday that it's part of his strategy to get back Del Posto's second Michelin star, as well as a four-star review from the New York Times. We actually found out about the closing a few weeks ago, as we already had a reservation made for the Enoteca on October 28 that someone from the restaurant called to cancel due to the closing. Instead, they offered us the regular Del Posto menu at the standard Enoteca prix fixe price of $52. Considering the regular price of the Del Posto menu is $95, we weren't too disappointed or upset by the switch.
When our friends Claire and Sean told us they would be visiting NYC in October, we had decided that we would have to organize a nice dinner while they were here. Lots of emails back and forth ensued, and finally we settled on the Enoteca, which was offering a special $35 prix fixe menu on weekdays.
Josh and I had gone to the Enoteca a few years ago when Del Posto first opened and we thought it was one of the greatest restaurant values in the city. The prix fixe back then was around $40 and the food was superb. Even though we were seated in the nook next to the bar, we still felt like we were a part of the regular restaurant, and the service was exemplary. I had been eager to go back but for some reason we never did, and so I was really looking forward to this dinner. Even though I was sad that the Enoteca would no longer be an option, I was looking forward to trying items from the regular Del Posto menu.
The group of us that went to Del Posto ended up being the Alinea dinner crew plus one, and it was really great to share another elaborate meal with people who are interested in food and like to try different things. We were seated at a large round table near the center of the main dining area, which gave us a nice view of the whole restaurant. I like the décor there, which isn't too modern or too fussy. I also like that the second level of the restaurant is open, making the space lofty and airy.
The meal started off with three different amuse bouches. The first, a lettuce soup topped with parmesan foam served in a white shot glass, was kind of weird and actually not really that appetizing. It tasted like wilted boiled lettuce, and had a sludgey texture. Also, once you got past the foam, which was just ok, it was a murky brown/green color that was kind of off-putting. The other two amuses fared better but nothing was really outstanding. The second, a pea puree and parmesan fritter, was sweet and salty but otherwise unmemorable. The third, a kind of gougere with salami, was salty and light and the best of the bunch.
The bread basket arrived next, and I was in carb heaven. The bread basket is actually what I remembered most about our previous dinner at the Enoteca. It was loaded with crusty baguettes, dense olive bread, light and crispy breadsticks, fluffy focaccia bread, and other assorted rolls. My favorite was the baguette but I happily tried all the other offerings in the basket as well.
Plus the bread came with both butter and lard for spreading. Lard! I know it sounds gross, but really, it tastes fabulous. It has a gamey flavor to it that you just don't get from butter.
Moving on to our first course, I selected the vongole marinate with fried artichokes and minte farro dressing, which was one of the dishes the waiter recommended. Big mistake! The dish wasn't bad, but it was confusing. I don't know if there were actually clams in the dish and I didn't see any, although I thought I tasted some but I wasn't sure. If you can't be sure, you know you're in trouble. Mostly I just tasted the nuttiness from the farro, and I could see tiny bits of fried artichokes, but it wasn't really a cohesive dish. It was my least favorite of all the appetizers we had at the table and I wouldn't recommend it.
The winner of the group I think was the carne cruda with truffle and parmesan. I thought it would be like beef carpaccio, but it was more like steak tartare. And it was quite possibly the best steak tartare I've ever had. We could smell the truffle essence coming off the plate, and the flavors just all worked so well together. The beef was fresh and sweet, the parmesan added a nice saltiness, and the truffle and porcinis were so earthy. I couldn't stop stealing bites from Josh's plate.
Other appetizers on the table included the special of the day, a foie gras mousse with figs, which Claire ordered, and a lobster salad fra diavola. Both were also much better than the vongole, especially the foie gras mousse.
For the pasta course, we selected two pastas from the list that would be shared by everyone at the table. The first was a pumpkin ravioli with almond milk and black truffle. The pumpkin filling was nice – not too sweet or dessert-like, but there wasn't enough sauce to dress the raviolis. We could smell the truffle in the sauce but it didn't pack too much flavor, and the lack of sauce overall made the dish very dry and boring. There were pieces of chopped almonds on top for a texture contrast I think, but they clashed with the rest of the dish. It was disappointing because the combination had so much potential but it really didn't work out in the end.
The second pasta was spaghetti with Dungeness crab, sliced jalapeno and minced scallion. This is a dish that I've heard so much about ever since Del Posto opened and I've been dying to try it. I must say that it exceeded even my high expectations. The spaghetti packs so much crab flavor that they must cook it in a crab stock. The noodles are thick and al dente, just the way I like it, and the jalapeno and scallions add a nice freshness to the dish. I think there is also lime juice or some other citrus in the sauce, as it has a zippy tang to it. The chunks of crab on top were sweet and tasty, and I enjoyed every bite of this pasta.
For my main course, I selected the roasted lamb rack with a puttanesca sauce and sautéed basil. The lamb chops were ginormous! Seriously, I've never seen a rack of lamb that large before. But also really tasty and beautifully cooked to medium rare as requested. The puttanesca sauce though was a bit overpowering in olive flavor; I prefer to taste lamb on its own. The sautéed basil was interesting, as I've never seen basil cooked and served in the same way as spinach, and while it's good if you like basil, there is just too much of it and it gets overwhelming. So I treated that more as a garnish rather than a side. Nevertheless, just eating the mutant-sized lamb was satisfying enough.
Josh had the cacciucco, which was kind of like a bouillabaisse. It was assorted shellfish (clams, mussels, lobster) and scallop carpaccio served in a garlic bread soup. The scallop carpaccio was the highlight, with large tender pieces that practically melted in my mouth. The broth was also tasty and flavorful, not overpoweringly fishy, and the seafood was cooked beautifully. I dipped lots of bread into the leftover broth when he was done.
For dessert, Josh decided to be super adventurous and ordered the sfera di caprino, celery and fig agrodolce, and celery sorbetto. It was the most savory of the desserts and involved spheres of goat cheese covered in crunchy bits. I admit, I was skeptical when he ordered it, and it turned out to be the best dessert of the evening. It was such an unusual combination of flavors but the goat cheese wasn't too tangy or gamey, and the celery was so light and refreshing that it really did taste like dessert. It just goes to show that being daring can pay off in great dividends.
I selected the chocolate ricotta tortino with pistachios and extra virgin olive oil gelato. I picked this dish because of the olive oil gelato, which I tried at another Batali restaurant, Otto, and absolutely loved. The gelato is rich and creamy and really does taste like olive oil sprinkled with sea salt on top. It's another thing that sounds weird but tastes so delicious. The chocolate cake was just ok, a bit dry and boring, but it tasted much better when eaten with the olive oil gelato. It was a dessert that worked well as a whole, but didn't work as well if eaten separately.
We also had a tartufo al caffe with dark chocolate, coffee, and candied lemon for the table, as they brought an extra dessert by mistake and graciously allowed us to keep it. However, it was pretty disappointing and boring – basically just coffee ice cream in a dark chocolate shell. Nothing about this dessert stood out, which is surprising since it was one that the waiter had recommended.
Other desserts on the table included the torta al rosmarino with cherry Macedonia, pecans, and yogurt gelato, which was an unremarkable chestnut cake, and a dessert called four chocolates and four rums ($10 supplement), which is exactly how it sounds. Basically they pour tastings of different rum that are paired with chocolates of varying intensity. Not being a rum fan, I didn't try any of the combinations, but Mike and Claire seemed to have fun with it.
We also ordered a round of coffee drinks to finish up our meal. They brought out little petit fours for us to try, which included pieces of shortbread with flecks of black pepper in it, red currant jelly, apricot bars, and chocolate brownies. My favorite was the apricot bars, which had an intense fruit flavor. The shortbread was also pretty good because it wasn't too sweet and I was sugared out at this point.
Overall I have to say that I was a bit disappointed by this meal at Del Posto. The thing is, nothing was bad. But aside from the carne crudo and the crab spaghetti, nothing really blew my mind. Everything else was just good or adequate. I know that Del Posto is looking to earn more stars and I just don't think this food would cut it. I just wasn't excited or surprised by anything, aside from Josh's goat cheese and celery dessert. I love it when I first taste something and it makes me catch my breath and open my eyes wide in amazement. Every single course at Alinea and Le Bernardin did that for me. Most of the dishes here did not.
Service was also satisfactory but not spectacular. I liked that they knew immediately from our reservation that we would be offered the Del Posto menu at the Enoteca price without us having to bring it up awkwardly when it came time to pay. And they let us wait at the bar until everyone arrived, then carried our drinks over for us, even though they also would have let us sit at the table to begin with if that was what we preferred. But even though he was knowledgeable about the menu, most of the waiter's suggestions were disappointments, which was surprising to me. I know everyone has different tastes, but all of us at the table pretty much agreed on which dishes we liked best, and those weren't it. In fact, they were some of the biggest disappointments, taste-wise.
And while the staff swept the table when serving our courses, they also served the entrees while one person at the table was in the bathroom, a huge gaffe in my opinion. They covered his dish with a silver dome but the rest of us were left to uneasily decide whether we should start without him or let our own food get cold. The sommelier also didn't really impress us. While she did offer a few suggestions and elaborately seasoned our glasses before serving our wine selections, she had a hard time answering basic questions about why the wines were served in differently shaped glasses. I know those all may sound like petty complaints, but after reading various accounts about what other restaurants have done to earn the elusive third Michelin star, the difference is really in the details.
So what's my final verdict? The meal we had was a bargain at $52, but it would have been a disappointment if we had paid $95. I know price shouldn't really play into how good a meal was, but it does. When you're shelling out that kind of money for a meal, everything should be perfect, or at least close to perfect. But the food wasn't astounding nor was it on the same level as other restaurants with similar price points. I think Batali and crew will need to make a lot more changes aside from eliminating the Enoteca. I'm also not sure how getting rid of the Enoteca fixes anything, as it was a really great way for people to try the food (although from a less extravagant menu) and get the Del Posto experience even if they couldn't afford the standard Del Posto prices. It gave the restaurant more exposure, but I guess being more exclusive and inaccessible is the direction in which they are heading. Sad. But I do respect Del Posto owners Mario, Joe Bastianich, and Lidia Bastianich (who has been my favorite chef since I was little) so I wish them the best of luck on their quest for more stars. If I hear that they do make other improvements to the restaurant, I'll happily go back and give it another shot.
Del Posto
85 10th Ave. between 15th and 16th St.
New York, NY