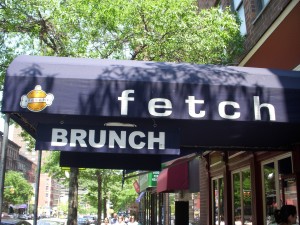 We headed to Claire's old neighborhood on the UES and had brunch at one of her favorite restaurants, Fetch, which has an adorable dog motif. The restaurant is spacious and there are hundreds of cute puppy pictures on the walls.
Outdoor seating is also available when the weather is nice, and on this beautiful Sunday morning it was packed outside but empty inside. We ordered a round of bloody marys at the bar while we waited for the rest of our group. The drink was strong and peppery – the perfect hangover cure after our late night at Lansdowne Road.
Once everyone arrived, we were seated at a large round table that made it easy for everyone to chat. They brought out baskets of decent bread, but the true highlight was the strawberry butter, which deliciously sweet and creamy.
Claire recommended the smoked salmon scramble, and being the lox lover that I am, of course I couldn't pass it up. It's scrambled eggs with chopped smoked salmon and cream cheese, and it was definitely chock full of smoked salmon but I couldn't taste any cream cheese. I was a bit relieved though, as I was worried about biting into a giant blob of cheese (not my favorite thing but I'm slowly working on that), but I guess it was all mixed in very well.
Josh had traditional eggs benedict with hollandaise on the side. It was pretty standard; good, but nothing special. The eggs were poached perfectly though, and both of our entrees came with delicious breakfast potatoes that were nicely seasoned.
The only major glitch in service was that the waitress seemed a bit upset when we didn't order another round of drinks, and kept coming by to ask us if we were sure. I felt bad, but I guess we weren't fully recovered enough for a boozy brunch. At least she kept our coffee mugs filled and didn't rush us, even after the room filled up. Overall, Fetch is definitely a great place to meet up with friends and catch up over a nice meal.
Fetch
1649 Third Ave. between 91st and 92nd St.
New York, NY