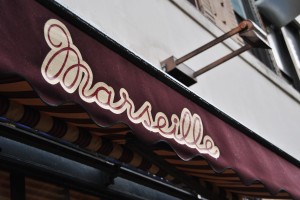 For my birthday, Jess and Jack got me tickets to see a Times Talk featuring Eric Ripert and Jennifer Carroll. It was part of the NYC Wine and Food Festival, and Josh and I were excited to see one of our favorite chefs in person. We absolutely love Le Bernardin, and I have a not-so-secret crush on Chef Ripert.
The talk was during the afternoon at the Times Center on 41st St. so Josh and I decided to get a late lunch on our way over. We couldn't really decide on where we wanted to eat, but Josh mentioned that he was craving croque monsieur – specifically the croque monsieur from L'Express. Since we were nowhere near L'Express, I suggested we check out Marseille, which was on the way and is owned by the same people. I was hoping that the croque monsieur would be similar since we both loved the version at L'Express.
Turns out that Marseille didn't offer croque monsieur, but they did have croque madame, which is basically the same thing, with the addition of a fried egg on top. We decided to share that and a chicken sandwich. While we waited for our food, they brought us a basket of breads and muffins to munch on. There was slices of marble rye, a crusty roll with raisins, and mini muffins that tasted a bit like carrot cake – I enjoyed the variety.
The croque madame arrived and looked extremely promising. There was a thick layer of cheese on the outside that was nicely browned, and the fried egg on top looked like it was perfectly runny. While the egg was actually cooked well, when we cut into the sandwich, we could see immediately that it was pretty different from the L'Express version. For one thing, there was no cheese in the middle of the sandwich, only ham. All of the cheese was on the outside, and what looked deceptively brown and bubbly was actually lukewarm and kind of congealed. The bread itself was soggy, not crispy, and there was mustard in the sandwich that was unevenly distributed. Some bites were all mustard flavor, and other bites had none. We were both pretty disappointed.
The chicken sandwich fared slightly better in terms of execution, but we also found it a bit disappointing. It featured grilled chicken breast, roasted peppers, arugula, bacon and aioli on a brioche roll. The combination looked good on paper but it was kind of boring in flavor. The chicken was tender but bland, the roasted peppers almost non-existent, and not even the bacon could help boost the flavor. Plus it was actually a pretty small sandwich and didn't do much to satisfy us.
Both of the sandwiches came with small salads on the side, just a simple mix of greens and halved cherry tomatoes. The salad that came with the chicken sandwich was pretty bad – there was no dressing on it, plus the lettuce was sandy. I don't know what happened there since the salad that came with the croque madam was fine. We were also disappointed that the sandwiches didn't come with fries as they did at L'Express. We added a side order, which was a good call because they were hot and crispy and probably the highlight of our meal.
Overall we were both disappointed with Marseille, especially since we enjoyed L'Express and Nizza so much. I guess the same owners doesn't necessarily mean the same chef/recipes. The restaurant itself is nice, with an upscale bistro feel to it, but the food was pretty lackluster for us, and kind of pricey to boot. The sandwiches at L'Express were much better, both in flavor and execution, plus they came with fries in addition to the salad. I don't really see us going back to Marseille unless we're in a pinch, but there are tons of restaurants in the area along 9th Ave. that serve much tastier fare.
As for the Times Talk, Chef Ripert was delightful to listen to, and very easy to relate to as well. He has a great sense of humor that you wouldn't really expect from such an esteemed chef. As for Chef Carroll, we were fans of her from Top Chef and Top Chef All Stars, but she didn't add too much value to the talk. She did provide some color commentary and anecdotes, but the real highlight for us was definitely Chef Ripert. He is clearly very passionate about food and takes great pride in the dishes that he puts out in his restaurant. His passion is infectious, and I hope that I will always strive for the same kind of perfection, both in my own cooking and in my life.
Marseille
630 9th Ave. at West 44th St.
New York, NY