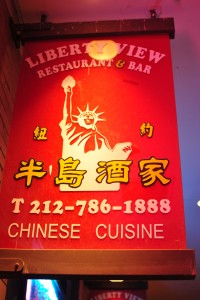 At a recent Sunday night dinner with the family, we revisited an oldie but a goodie. When all of us lived downtown in the Financial District and Battery Park City, Liberty View was our go-to Chinese restaurant for Sunday night dinners. Since Josh and I moved uptown, we haven't been to the restaurant in probably a year, which is too bad because the food is really quite good.
Every time we go, we always make sure to order the steamed juicy buns, or soup dumplings/xiao long bao. These are some of the best ones that we've had, and believe me, Josh and I have eaten our way through most of the soup dumplings in Chinatown. I was happy to see that they were still as tasty as ever. The skins are super thin but still slightly chewy, the meat full of porky goodness, and the soup inside is hot, flavorful, and has just the right amount of fatty richness to it. Delish!
Another of our usual appetizers is the spare ribs, which are sticky and citrusy and not too sweet. They can be a little fatty sometimes but they're generally pretty tender.
We also got an order of the cold noodles with sesame sauce, which something that we hadn't tried before at this particular restaurant. It's a pretty standard, simple dish, but unfortunately, this version was pretty bad. The sesame sauce was watery and not very flavorful, and there just wasn't enough of it to cover all the noodles. The dish wound up being extremely bland, and it's not something we would order again.
For entrees, the moo shu pork is one of our favorites. Strips of pork are stir fried with scrambled eggs and shredded cabbage, then rolled into thin pancakes dabbed with hoisin sauce. Just make sure you ask for the same number of pancakes as you have people, because if you don't specify, I think they only give you a certain number. We were short the first few times we ordered so we learned our lesson. The good thing is that they'll wrap up the moo shu for you and portion it out evenly across all the pancakes.
Another favorite is the crispy spring chicken in house brown sauce. The chicken is always tender and juicy with crispy brown skin. The house brown sauce is a mixture of soy sauce and chili oil, and is chock full of scallions and black pepper, which gives it a little kick. The dish comes garnished with crispy prawn crackers that are puffy and crackle delightfully if you leave them on your tongue. These were one of my favorite snacks growing up, and while they don't really do much for the chicken, they're a fun addition.
My personal favorite dish is the Shanghai style pan fried noodles. It's a bed of thin egg noodles that have been fried until crispy, then covered in a mix of chicken, pork, broccoli, carrots, snow peas, wood ear, mushrooms, and other assorted items in a flavorful brown sauce. You mix everything together and the noodles add a wonderful crunchy texture to the dish.
To add some veggies to our meal, we originally asked for hollow water spinach, which is my favorite vegetable, but they were out of it that evening. We settled for pea shoots instead, which are another leafy green vegetable similar to spinach. The pea shoots were sauteed with garlic and cooked until just wilted, so that the stems still had a nice crunch to them.
Last but not least, we got an order of pork fried rice. It was fairly standard but there was lots of pieces of roast pork mixed throughout, and the rice wasn't overly mushy or greasy.
Overall Liberty View is one of our favorite Chinese restaurants in the city. It's a bit more refined than some of our go-to places in Chinatown, though I wouldn't really call it fancy. It's in a nice location though, right along the Hudson River, and has a nice view of the Statue of Liberty. Service can be a bit overbearing at times, however, because they try to plate and serve everything for you. What I like about Chinese food is that it's served family style, so everyone should be able to help themselves. Aside from that, I think the food is really good, almost up to Chinatown standards. Now that we've rediscovered how much we like the food there, I'm sure we'll be going back more often.
Liberty View
21 South End Ave. at West Thames St.
New York, NY