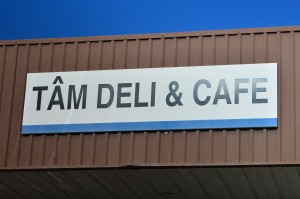 The last day of our Louisiana/Texas trip was really just a travel day. We had an early afternoon flight out of Austin and needed to return our rental car by midday, so we took it easy in the morning. We did have one last stop planned though, on our way to the airport. Rather than suffering through bad airplane food, we picked up some banh mis from Tam Deli and Cafe to tide us over.
The banh mi that I had read the most about during my research was the fried garlic shrimp banh mi. When we opened up the sandwich though, it looked more like a po' boy than a typical banh mi, as it was dressed with lettuce, tomato, and mayo, rather than cilantro, jalapenos, and pickled vegetables. We laughed that our trip had come full circle, considering we started out in New Orleans and ate more than our fair share of po' boys while we were there. Nevertheless, it was a delicious sandwich – the shrimp were perfectly fried and covered with crunchy, pungent bits of garlic. The garlic flavor wasn't overwhelming, but it definitely makes its presence known. The french bread was crusty on the outside, chewy on the inside, and wrapped around the fillings nicely, without getting soggy or too messy.
We also ordered a grilled pork banh mi, which ended up being more like the traditional banh mi that we're used to. It was filled with flavorful strips of savory grilled pork and topped with pickled shredded carrots, sliced cucumber and jalapeno, and of course, cilantro. It wasn't as stuffed to the brim as the banh mis we're used to from back home, but it was still tasty nonetheless.
Lastly, we also got two cream puffs, because, why not? These were fresh when we ordered them (and we devoured them right away), with a delicate choux pastry exterior and creamy custard inside. They were two lovely petite bites.
Overall, we thought the banh mis from Tam Deli and Cafe were pretty solid. The fried garlic shrimp sandwich was delicious in its po' boy format, but might have been even better dressed with the traditional banh mi ingredients; I'm not sure if you can request it that way, but it's worth a shot. The garlic shrimp itself is worth the detour, though this place is pretty far outside of downtown Austin. But if you have a car and are heading to the airport, it's not too out of the way. Don't forget to get a cream puff for dessert. We ended up eating our banh mis by the gate while waiting for our flight, and they held up really well. It was a nice conclusion to our week and a half of pigging out through Louisiana and Texas, and it definitely made us want to do more food-related road trips in the future.
Tam Deli and Cafe
8222 N. Lamar Blvd.
Austin, TX