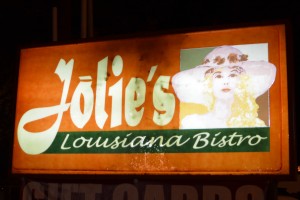 Jolie's Louisiana Bistro was probably the nicest restaurant we went to on our Louisiana/Texas trip. We had eaten pretty casually while in New Orleans and were in the mood for something a little more upscale when we got to Lafayette. We hoped that J would be on her best behavior, but we also figured that it wouldn't be too crowded on a Wednesday night so in case she did make a scene, she wouldn't bother too many people.
The restaurant itself is in a beautiful space. There's a big bar in front when you walk in, and the large room is split in two by a staircase to the upper level. The ceilings are tall and appeared to be painted tin with lots of intricate details. The hostess didn't bat an eye when she saw us walk in with a baby, and after we settled J into a highchair, she brought over crayons and a coloring sheet – a good sign that this was a kid-friendly bistro.
After placing our order, we were presented with an amuse bouche made from beets. It had the consistency of an airy mousse and was savory and sweet at the same time. The amuse was a nice little spoonful to whet our appetites.
The bread was sort of a flat, chewy loaf, served warm with flavored butter. After all the french bread we ate in New Orleans, it was a welcome change of pace. J was pretty content to only eat this bread for her meal.
We decided to share an appetizer to start. After two false starts (we tried to order bone marrow first, and then the rabbit bites, but they ended up being out of both), we finally settled on bacon wrapped dates stuffed with ricotta and pistachios. It's a pretty classic salty/sweet combination, further enhanced by the rosemary-port glaze on the outside of the bacon. However, I wished the bacon was a bit crispier, as it wound up being more chewy. The ricotta in the middle added a nice creaminess that should have acted as a counterpoint to crispy bacon. Nevertheless, it was a nice little snack, and one that I may try to replicate at home.
For our entrees, I selected the Zapp's Crawtator crusted drum while Josh chose the crispy duck. As usual, we swapped plates halfway through. The drum, which is a meaty local fish, was completely covered with crushed Zapp's potato chips. The chips were still in good-sized pieces though, which I found a bit surprising, and the crust also wasn't as crispy as I would have preferred. The Cajun seasoning on the chips were subtle and worked well with the mildly flavored fish. There was a crawfish cream sauce on top, which is what originally sold me on the dish. I was expecting something similar to etouffee, but it was more creamy and bisque-like, which wasn't a bad thing. The dish came with a choice of a side and we opted for the duck fat fingerling potatoes. Although they looked a bit pale, they were actually well seasoned and pretty flavorful. It was a heavy dish overall though, so even though I did enjoy it, I was glad that we went halfsies.
The duck had gorgeous skin that was perfectly rendered and crispy, as advertised. The meat inside was tender, and the pecan-orange agro dolce was appropriately tangy and sweet. There wasn't a lot of sauce covering the meat, which let the flavor of the duck shine. The grits on the side were a bit firmer and not as creamy as I prefer, but they had a nice sweet corn taste to them.
Overall, we were pretty happy with our dinner at Jolie's. It was upscale food with a Creole twist, and I like that they support local farmers and the farm-to-table ideals. Although there were minor execution problems, I think the dishes were well thought out and interesting to eat. The restaurant is on the pricier side but in line with the quality of food we received. Starters and small plates mostly ranged from $11-$14, and there were lots of entrees between $20-$25. Service was great; everyone was friendly and attentive, making sure our water and wine glasses were always filled. It was just a pleasant meal in general, and a restaurant that I would recommend to visitors.
Jolie's Louisiana Bistro
507 West Pinhook Rd.
Lafayette, LA