Although I haven't given up anything in particular for Lent, I have been good about abstaining from meat on Fridays. Surprisingly it's quite tough for me not to eat meat, especially when I see other people eating it, and also because I'm not the biggest fan of fish at this moment. I do, however, love fried foods, including fried fish. On my favorite blog, Midtown Lunch, I read about a streetcart that serves a cheap, filling, and tasty fried fish sandwich, and knew that I had to try it out.
Minar
My first attempt was on a snowy Friday, which turned out to be a mistake as the cart was nowhere to be found. Neither was my back-up cart, Moshe's Falafel. Instead, Josh and I headed to Minar where I had my first completely vegetarian Indian meal. While he went for the meat lunch special and filled up on keema and coriander chicken, I had to go for the veg lunch special and navigated through the meatless offerings with some help from the woman behind the counter.
I ended up with a container of rice topped with lentils, saag paneer, and a potato pea curry. The saag paneer was the only dish I've tried before, and it was as good as always. It's a thick spinach curry mixed with pieces of Indian cheese that has the same texture as firm tofu. It's kind of like a spiced (but not spicy) cream spinach and is very flavorful and filling. The lentils were also hearty, but a bit bland. They were cooked in a very light sauce and didn't have much seasoning. I did welcome the protein though. My least favorite was the potato pea curry, because I only got like three pieces of potato, and the rest was peas in a super watery gravy that didn't have much flavor.
To help bolster my meal, I added a piece of fluffy, fresh baked naan for $1 more. The naan was warm, nicely puffy, and had pleasingly chewy. At $1, it's a true bargain and a great addition to any meal you get at Minar.
The lunch special also came with a foil packet filled with lettuce and raw onion, and a small container of raita. The raita is cucumber yogurt sauce that is great over most of the curries, especially the ones containing lamb.
My container of vegetarian offerings did manage to satisfy my hunger, but not my craving for meat. What can I say; I'm a true carnivore. I did like the saag paneer though, and would definitely order that again. The lentils were ok, but I really didn't enjoy the potato and pea curry. It was definitely a filling meal though, and all for less than $10. Not bad. I do like the meat offerings at Minar better though, so next time I'll have to go when it's not a Friday during Lent. The lunch specials are pretty good deals and you'll get a lot of food. There are lots of options to choose from so I'm sure you'll find a combination that works best for you.
Kim's Aunt Kitchen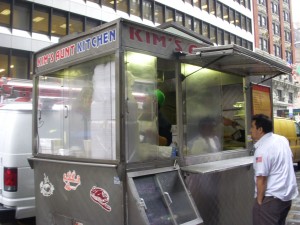 My second attempt to get the fried whiting sandwich was a success, and boy, was I happy with what I got. Based on Midtown Lunch's recommendations, I opted for the fried whiting on a hero. The sandwich was massive and featured two thick fried whiting filets on a toasted hero, covered in lettuce, tomato, and mayo. I couldn't believe the size of this sandwich, and it was only $3.50!!
The fried whiting was delicious – still hot, nicely breaded, flaky, and not too fishy. Most people I know are too skeptical to order food from a streetcart, and probably would never order fish from a cart. But I'm telling you, they're missing out! This sandwich was better than any Filet o' Fish, for sure. It was meaty, freshly fried, and just hit the spot.
I also got a side order of French fries for $1.50. They were packed into a Styrofoam container so they got a bit steamed on my way back to my office, but for streetcart fries they were pretty good. They were the thinner cut fries that I like, lightly salted, and topped with ketchup per my request.
Overall I absolutely loved Kim's Aunt Kitchen Cart. My fried whiting sandwich was better than I expected it to be and completely satisfying. I would gladly skip meat for this sandwich, and I would eat it on non-Fridays as well. There are other options at the cart as well, including chicken and bulgogi platters with lo mein, but I'll probably stick with the fried fish sandwich. Please trust me and get over any streetcart food fears – it's worth a taste! And the cart's motto is also great:
Minar (multiple locations)
138 West 46th St. between 6th and 7th Ave.
New York, NY
Kim's Aunt Kitchen Cart
46th St. between 5th and 6th Ave.
New York, NY