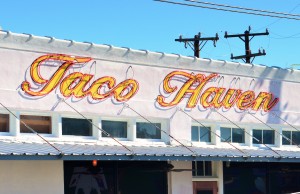 Eating a lot of tacos in San Antonio was our primary focus, and Taco Haven was the first place we tried out. It was recommended to us by our hotel concierge and was also on the list that I had researched prior to our trip. It was brunch time on a Sunday when we arrived so we had to wait a few minutes before we were seated, but the line wasn't too bad.
We munched on the complimentary basket of chips and salsa while we perused the massive menu. The chips were thicker cut than most so they were a bit hard to bite through, but were still tasty enough with the salsa.
It was hard for us decide what to order because all of the tacos were calling out to us, but our waitress said that two would be more than enough for each of us. I was a bit surprised by that, given that we can usually take down three or more tacos each, easily. Nevertheless, we each picked two different tacos, and then asked our waitress for a bonus recommendation for a fifth taco that we would split. I also asked her about the menudo, which is a tripe soup that I've always wanted to try. She offered to bring me a taste, and brought back a small cup of the savory soup with lots of pieces of tripe. While the soup itself was just ok, the tripe was fabulous – soft and tender, with just the slightest chew.
When our tacos arrived, I understood why our waitress said two would be enough. They were massive! But the tortillas were also incredibly bready, which came as a huge shock to us. They looked homemade but were nothing like the thin, chewy flour tortillas that I devoured at Lupe Tortilla. These were thick and doughy, more like a thin, dry pita bread, and didn't even remotely resemble any tortilla we've ever seen or tasted before. They were pretty disappointing, both in texture and flavor, and even the fillings couldn't save these tacos.
For my tacos, I picked chorizo and eggs and Haven taco. The chorizo was surprisingly bland and didn't add much flavor to the scrambled eggs. The combination of the bready tortilla and the bland, dry eggs was just heavy and dull. It definitely needed more seasoning.
The Haven taco was not what I expected. The menu said it was papa con chile and chile con queso. I guess I mis-read "chile" for "chili". What I got was a taco filled with potatoes, peppers, onions, and cheese; what I expected was the taco to have ground beef as well. Nevertheless, this was a pretty tasty taco. There were tons of seasoning, and despite its bland appearance, it was packed with flavor.
Josh picked the Torres taco, which had bacon, beans, and cheese. There was also sour cream on top, which wasn't mentioned on the menu and he wasn't too happy about, but otherwise, it was a relatively harmless and decently tasting taco. He also got a carnitas taco, which had big chunks of pork in it, but was otherwise just ok. The flavor and texture of the pork were both fine, the taco itself was nondescript.
For our shared taco, our waitress recommended the steak a la Mexicana taco. It was grilled steak with a sprinkling of diced peppers and onions. Again, the meat by itself was fine, but as a taco, it just didn't do much for us.
We got J a chicken fajitas taco, which looked the same as all the other meat tacos we got – a lot of meat, a lot of bready tortilla, and not much else. I guess with "fajitas" in the name, I was expecting peppers and onions mixed in, but there was nothing. J liked the chicken just fine, but she didn't eat it with the same gusto as she did at Lupe Tortilla.
Overall, we were both incredibly disappointed with the tacos at Taco Haven. The biggest detractor was the terrible bread-like tortilla. It was just dry and heavy and did nothing for the fillings. All of the tacos just seemed to be missing something – a sauce, a hit of acid, more seasoning, anything. Their only upside was that they were incredibly cheap, $2-$3 each depending on the fillings. We walked away full but unsatisfied. Too bad, because the service was great, and the atmosphere was cheery and bustling. We probably would have been better off ordering off the non-taco part of the menu, but at a place called Taco Haven, how could we not order tacos? This was a definite bust for us.
Taco Haven
1032 S Presa St.
San Antonio, TX