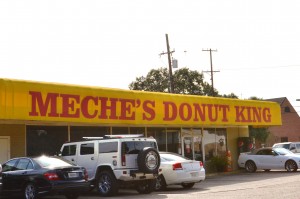 After consulting roadfood.com for a place to grab a local-style breakfast, we drove about 15 minutes from our hotel in Lafayette to the neighboring town of Breaux Bridge. While Cafe des Amis was considered to be the best place for their Zydeco breakfast, it's only on Saturdays and we were there on a Thursday. We decided to go for a more casual route with donuts and coffee, plus a few local specialties.
Kolaches originated in Central Europe and are pretty popular in Louisiana and Texas. They're typically sausages wrapped in dough and baked, sort of like a breadier version of pigs in a blanket. I had tasted a kolache before, when a friend brought them to NYC from Texas, but never one that was warm and fresh. Meche's was out of boudin kolaches but still had sausage and cheese kolaches available so we decided to try one of those. We opted for the jalapeno version, which had pieces of the spicy pepper baked right into the dough and gave it a nice little kick.
The sausage is more like a hot dog than an Italian or breakfast sausage, and a thin slice of cheese was wrapped around it and was melty and slightly gooey. The bread itself was soft, chewy, and slightly sweet. It was a great combination of salty, sweet, and savory.
We also tried the creole stuffed bread, which was a thinner, slightly denser dough baked around a mix of ground sausage, peppers, and spices. The sausage here was more like a traditional breakfast sausage broken up into small crumbles. It was an incredibly savory mix that was well seasoned and just exploded with flavor. I don't even like breakfast sausage and I was in love with this stuffed bread.
And of course, we had to taste the donuts. We actually got to the shop shortly before they closed so there wasn't a whole lot left to choose from. We decided to stay classic with a regular glazed donut and a chocolate glazed one. I had been hoping to try their beignets, which I read were like cinnamon sugar dusted yeast donuts rather than the more fritter-like beignets of Cafe Du Monde, but no such luck. Still, the classics were great. The donuts were fluffy and light, eggy with a slight hint of vanilla. I commented to Josh that they tasted like good french toast, in donut form (and minus any cinnamon). The glazes were sweet but not overwhelming so; they were the perfect pairing for cups of Community Coffee that we were drinking.
We had a great breakfast at Meche's Donut King, which I think might be a franchise as there appear to be other unrelated branches in Lafayette and elsewhere in Louisiana. But the donuts tasted fresh and didn't have that chemical aftertaste that I usually experience with donuts from chains back home. The real stars of the meal, however, were the kolache and the creole stuffed bread. I'm partial to savory breakfasts in general, and I'd happily eat these every day of the week. I just loved the flavor of the stuffed bread filling, and the combination of the hot dog sausage, cheese, and jalapenos was something I might try to replicate here.
Meche's Donut King
125 Courthouse St.
Breaux Bridge, LA
Tags: Breaux Bridge, Doughnuts, Louisiana, Sausage