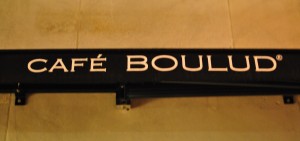 Josh recently celebrated a milestone birthday, hitting the big 3-0. In honor of the occasion, I made reservations for dinner at Cafe Boulud. I booked the reservation on Open Table, noting that we were celebrating my husband's 30th birthday. When I got a call from the restaurant the day before our dinner to confirm our reservation, the person on the phone also asked what my husband's name was, so I was happy they got note I wrote.
Josh and I met up at Central Park before dinner and took a little walk around the lake to kill some time before our reservation. We still showed up about 15 minutes early but they seated us right away without any issues. We had a cozy spot in the far corner, sitting next to each other on a comfortable booth. I liked the decor of the restaurant, with neutral tones mixed in with dark wood, accented by small, bright and colorful paintings on the wall. The first and only time we had eaten at Cafe Boulud, a few years ago during Restaurant Week for lunch, I found the decor to be a bit bland, kind of like a nondescript hotel restaurant room. This was a big improvement, though a lot of the changes were pretty subtle.
While we were perusing the menu, they brought us an amuse bouche of deep fried risotto balls filled with smoked mozzarella. These were served piping hot and perfectly fried – crispy on the outside, creamy and gooey on the inside. It was a nice little bite to start off our meal.
It took us a while to decide on what to order because there were so many options that looked tempting. It was such a difficult decision that we ended up ordering two appetizers, two pasta courses, and two entrees, sort of making our own tasting menu. I liked that everything was a la carte because we could pick whichever dishes we wanted. As is our custom, we each started with a dish and then swapped plates halfway through.
After making our selections, we settled in to enjoy our meal. First was a visit from the bread man, who happily gave us a piece of each bread to try. In addition to the usual baguette, there was an olive rosemary roll and slices of sourdough, pumpkin seed, and raisin bread. While the sourdough was a bit bland, the pumpkin seed bread was interesting. It really was chock full of pumpkin seeds, giving it a salty, nutty taste. The raisin bread was good but I liked the baguette (of course) and the olive rosemary roll best. Both had hearty crusts and flavorful, chewy insides. I only wish that the bread was served warm, but at least the bread guy came by often to check if we wanted more bread.
For our appetizers, we ordered the capon terrine and a special of the evening, the lobster bisque. The capon terrine was hard for us to resist because it featured black truffles and foie gras, as well as puy lentils and an espelette (a type of pepper) jam. The presentation was visually stunning, with the different layers of the terrine clearly defined. The foie gras took center stage and I enjoyed the livery richness, although I prefer foie gras when it's sauteed and creamy, rather than cold. Also, while we could see the black truffle layer, it actually didn't impart too much truffle flavor, much to my disappointment. Still, the capon was very tender, and all the components on the plate worked well when eaten together. I liked cutting off slices of the terrine and eating it with some crunchy toasts that accompanied the dish, providing some textural contrast. It was an interesting dish, though probably not something Josh or I would order again.
The lobster bisque was topped with a tarragon foam and had a few english pea gnocchis at the bottom. The foam really didn't do much for us, but the gnocchis were fabulous, with a light and creamy texture. The bisque itself was full of lobster flavor, however, it was much thinner and lighter than most bisques we've had. It didn't seem like they used much cream in it, if at all. Some people might prefer that, but for us, we like our bisques to be a little bit thicker and more creamy. I think the cream helps the flavor coat your mouth and gives the soup a certain velvety richness. With this particular bisque, the flavor was intense at first sip but didn't linger. We also couldn't really use the bread to sop up what was left at the bottom of the bowl because the soup was so thin, which was a bit disappointing since that's usually one of our favorite parts. Nevertheless, the bisque wasn't bad, it just wasn't to our personal preference.
For our pasta course, we got appetizer portions of the sheep's milk ricotta gnocchi and the celery root agnolotti. The gnocchi were enrobed in a broccoli rabe puree that was light and fresh, not bitter at all, and topped with dollops of ricotta, chopped toasted hazelnut, and a drizzle of olive oil. The gnocchi themselves were creamy and not the least bit dense. I liked that there were still bigger pieces of broccoli rabe mixed into the puree, adding texture to the dish, but I wasn't a huge fan of the chopped hazelnut. While it gave a nice little crunch, I found the flavor of the hazelnut to be overpowering, ruining the delicate tang of the sheep's milk ricotta. I would have preferred toasted breadcrumbs instead, which I thought worked well with the ravioli we had at the Union Square Cafe. Josh liked the hazelnut though, so I guess it's a personal preference. Nevertheless, it was a very delicious dish.
As good as the gnocchi were, our other pasta dish was even better. It featured agnolotti, which were little raviolis filled with pureed celery root. The filling was creamy and savory, and the agnolotti were topped with soft chestnuts, celery leaves, and black truffles. Again, the black truffles weren't as flavorful as I had hoped, but the dish was absolutely fabulous. It was rich and flavorful, with lots of butter in the sauce, but we couldn't get enough of it. The celery leaves lightened the dish just a tad, and we were scraping the sauce from the bowl with pieces of bread. This was our favorite dish of the evening.
For our entrees, we split the venison loin and the pan seared striped bass. The venison was cooked sous vide and then seared on the outside, so that it was ruby red throughout, but with a nice crust. The meat was tender and just slightly gamey. It was served with smoked sweet potato flan, shallot confit, and a juniper berry sauce. The sweet potato flan was really interesting, with an intense smokey flavor that reminded us of barbecue flavored potato chips. The thin, crispy sweet potato slices on top only added to that impression. The juniper berry sauce was slightly sweet, and paired well with the venison.
The pan seared striped bass was perfectly cooked – the skin was crispy while the flesh was flaky yet meaty. The bass was served on a white bean cassoulet with mushrooms. The menu also said there was pork belly, but we didn't see any visible pieces. I think perhaps it was mixed in with the sauce and cassoulet, because it tasted very rich and hearty. I loved the subtle sweetness of the beans and the earthiness of the mushrooms. It was a very well composed dish.
For dessert, we ordered the special of the evening, the Grand Marnier souffle. When they came with our dessert, however, they also brought Josh an additional molten chocolate cake with a candle in honor of his birthday. They even wrote "Happy Birthday Josh" on the plate, which is I guess why the woman on the phone asked for his name when she confirmed our reservation. It was a very nice gesture, and though we were both pretty full at this point, we gobbled up the cake. It was dark and rich with a warm, gooey center, just as you would expect, and the accompanying coffee ice cream was a good match.
The Grand Marnier souffle was served with a small pitcher of creme anglaise and a scoop of vanilla ice cream. It was light and fluffy, just like a good souffle should be, and the flavor was spot on. We've had Grand Marnier souffles before and they usually just taste like a vanilla souffle with maybe a hint of orange. This particular souffle actually tasted like Grand Marnier, right down to the slight bite from the alcohol. It wasn't too sweet, and we liberally poured the creme anglaise into the center, which gave it an extra boost. The ice cream in this case was unnecessary, as the souffle and sauce were more than enough to satisfy us.
They also brought us a small basket of madeleines, which were similar to the ones we received at Daniel. They were delicately crisp on the outside and chewy in the middle, slightly sweet and citrusy. I couldn't stop popping them into my mouth, even though I was about ready to burst at this point.
During our meal, while we were eating the venison, Josh asked our waiter a lot of questions about the temperature at which the meat was cooked, the reason being that he had just received a Sous Vide Supreme for his birthday. We were also discussing the Executive Chef of Cafe Boulud, Gavin Kaysen, during our meal, and were debating whether or not he really cooks at the restaurant anymore given that he is a famous chef in his own right. Josh asked if I wanted to meet him, and our waiter overheard, telling us that Chef Kaysen was indeed cooking in the kitchen, and offered to take us on a tour. We were thrilled, of course, so after we paid our bill we followed our waiter into the kitchen.
The space was smaller than other restaurant kitchens we've seen (Alinea, Blue Hill at Stone Barns, Eleven Madison Park) but most likely because the restaurant itself is smaller. There was some activity going on but it wasn't chaotic, probably because service was winding down. Chef Kaysen took the time to greet us and speak with us for a little while. When Josh asked him about the sous vide venison, Chef Kaysen took us into a back room to show us the restaurant's huge immersion circulator.
I knew Chef Kaysen was a young guy, in his early 30s, and I've seen him on TV before, but I was really struck by how young he looked. It's pretty incredible what he has accomplished in his career already. I mean, this is the guy that represented the U.S. at the prestigious Bocuse d'Or four years ago! But I was drawn in by the fact that he was also totally down to earth and incredibly friendly, even ribbing our waiter good naturedly while we chatted.
Josh and I both found Cafe Boulud to be a wonderful experience all around. The food was delicious and the service was top notch. Our waiter was knowledgeable and engaging, knowing when to check up on us and when to leave us alone. Even the runners were superb, taking the time to speak with us when they served our courses or cleared our plates, always making sure that everything was ok. With regard to the meal itself, we thought that all the dishes were well prepared and beautifully presented. The pasta course stood out for us, as did the entrees. Even dessert was a hit, though I always like to say that we're not dessert people. It was a nice way to finish off our meal, and our faux tasting menu would have been incomplete with out it. Cafe Boulud is definitely somewhere on our top 10 list, and I would love to go back there again. It was a bit pricey, though to be fair, we did order four courses each and split a nice bottle of wine. Josh also had a scotch at the beginning of the meal. If we had shown some restraint, the bill would have been much more reasonable, but hey, it was a special occasion. As long as the birthday boy was happy, so was I!
Cafe Boulud
20 East 76th St. between Madison and 5th Ave.
New York, NY