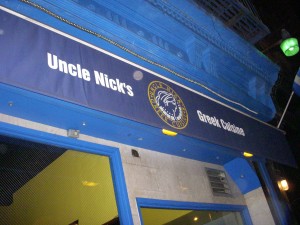 When Josh and I first moved to our current apartment, the first neighborhood restaurant we tried was Uncle Nick's Greek Cuisine on 9th Ave. We ordered way too much food and all of it was really good, but for whatever reason we never made our way back there. Fortunately it's a favorite of our Aussie mate Kate, so one night we went to dinner there with Josh's parents and her parents, as well as a few of their family friends. We were seated in a large square booth all the way in the back of the restaurant, kind of tucked away from the rest of the dining room. It was a nice, cozy spot, and the food didn't disappoint.
We started off with an appetizer of mixed dips that included tzatziki, tarama, melitzanosalata and scordalia. The tzatziki is a yogurt, cucumber, and garlic dip, the tarama is a fish roe dip, melitzanosalata is an eggplant dip, and scordalia is a potato and garlic dip. All of them are very flavorful and refreshing, perfect for dipping into with the soft, fluffy, grilled pita bread. I liked the garlickyness of the tzatziki and scordalia, and the slight smokiness of the melitzanosalata. Josh still isn't a fan of tarama, but I enjoyed its saltiness and brininess.
We also shared a two large Greek salads, which was plenty for our group of 11. The salads were piled into huge bowls and featured crisp lettuce, tomatoes, onions, olives, cucumbers, pepperoncini, and some fantastic feta cheese. The cheese was tangy, creamy, and not overly salty, kind of like a mild goat cheese. The dressing was light and vinegary, a perfect complement. The salad was really very tasty and refreshing.
For our entrees, Josh and I shared the lamb kebobs and the elliniki compania, which featured gyro, pork souvlaki, salad, rice, pita, and tzatziki sauce. The gyro was wonderful, with crispy browned bits on the outside and wonderfully spiced meat on the inside. The pork souvlaki was cooked perfectly and was well seasoned. We made mini sandwiches with the accompanying pita bread and tzatziki sauce. The portion was very generous and I liked having the variety from the gyro and the pork.
The lamb kebobs were cooked to medium rare as requested but wasn't quite as flavorful as the souvlaki or gyro. Still, the meat was very tender, and I liked the accompanying grilled vegetables (onions, tomatoes, and peppers) and rice pilaf.
We were all too full for dessert so instead I had a frappe, which was rich and frothy and served in a Shock Top beer glass. The frappe wasn't too bitter, though I did end up adding a bit of sugar to sweeten it up a little, and it had a nice strong coffee flavor to it.
Overall we were all pretty pleased with the food we had at Uncle Nick's, and I plan on going back there more often now that we'll probably renew the lease on our apartment. The food is classically Greek and very well prepared. All the meats we had were tender and perfectly cooked, and the dips and salads were fresh and flavorful. Service was fine and the place has a nice casual yet upbeat vibe to it, similar to some of the tavernas we went to when we honeymooned in Greece. Portions are generous and prices are reasonable, so you really can't ask for much more. Plus they're watching out for Manhattan's sewage systems, as evidenced by this sign I saw in the bathroom: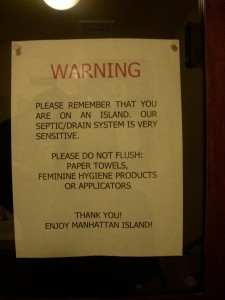 All kidding aside, the food is good and the atmosphere is festive. Nothing is fussy or over done; everything is simple and straightforward, and you'll definitely walk out full, satisfied, and happy. There's an ouzeria next door as well owned by the same people, which features small plates and Greek tapas. Hopefully we'll check that out soon and report back!
Uncle Nick's Greek Cuisine
747 9th Ave. between 50th and 51st St.
New York, NY
Tags: Greek, Lamb, Midtown West