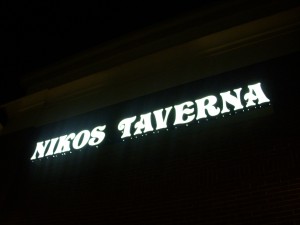 We went to Nikos Taverna, a Greek restaurant near my brother's house for a pre-baptism dinner with Alexander's godparents. The restaurant is also in a strip mall but is very nicely decorated inside with requisite pictures of Greece on the walls but a modern and upbeat vibe.
We received a bread basket with a standard white loaf and some olive oil for dipping. I was kind of disappointed that they didn't give us pita bread, since regular white bread seems out of place in a Greek restaurant. Nevertheless, the bread was fine and the oil was flavorful.
We saw another table receiving some sort of flambéed appetizer that looked really neat so we had to order one for ourselves. It turned out to be flaming Greek cheese saganaki, which is a thin wedge of seared kefalograviera cheese (made from sheep's milk) that is covered in brandy and set on fire. It was a very festive appetizer as they shouted "Opa!" when the cheese was lit.
After the flame went out the waiter squeezed lemon juice over the top and we quickly dug in. The cheese developed a beautiful golden brown crispy crust on the outside and was warm and melty on the inside. The sheep's milk cheese wasn't too gamey or tangy in flavor, and its saltiness was tempered by the lemon juice.
We also shared a fried calamari appetizer that was served with tzatziki sauce. The tzatziki was one of the better versions that I've tasted, rich and creamy with lots of bright flavor and well seasoned. The calamari was also well done, crispy on the outside and tender on the inside.
For my main course, I selected the yogurtlu kebab, which was ground meat patties served with triangles of pita bread, salad, tzatziki sauce, and tomato sauce. It was a huge serving of food, and all of it delicious. I thought the ground meat patties were made from lamb but when I asked the waiter, he said it was beef. It had a deep complex flavor though, and a slight gaminess to it that made me think it was lamb, but maybe that was because of the seasonings. The tomato sauce was kind of weird and sour tasting, so I ignored it and used the tzatziki sauce exclusively. I would cut off a piece of the patty and place it on a pita triangle with some of the salad, then top it off with a dollop of tzatziki and eat it like a mini gyro.
Josh had the grilled chicken kotopoulo skaras, which was marinated grilled chicken with roasted lemon potatoes and vegetables. The chicken was moist and tender, and the potatoes had great lemony flavor but I wish they had more texture and crispiness to them. It was a perfectly fine dish but nothing exciting. I liked my dish and some of the other dishes I sampled (the braised lamb shank, the lamb tenders) better.
Overall I really did like the food and the ambiance at Nikos Taverna. The décor is more upscale but the atmosphere is casual. It's a good place for large groups and there is a nice bar area in the front where people were hanging out having cocktails. The waitstaff was very friendly and attentive. I would definitely come back here if we're in Raleigh again, which will be likely since I already miss holding my nephew!
Nikos Taverna
4075 Davis Drive
Morrisville, NC
Tags: Greek, North Carolina