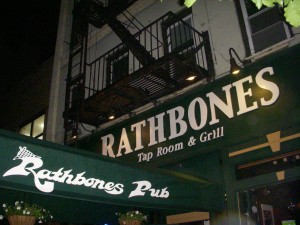 We ventured up to the Upper East Side in the pouring rain to check out our friends' new apartment, a charming duplex with a beautiful working fireplace and two terraces off the living room. None of us were all that familiar with the area (two of them used to live with us downtown in the Financial District), but we were all excited by the prospect that there are tons of bars and restaurants in the vicinity, which is a far cry our former neighborhood where everything shut down after work. We headed to Rathbones, a somewhat divey sports pub and grill that I used to go to with my softball teammates after games at Asphalt Green West. I remember they had good wings and a nice variety of beers on tap, but the greatest appeal is the weekly specials. On Tuesday nights, it's Two for Tuesday, which is essentially buy one get free on all beers (except Guinness), wine, burgers and sandwiches. When else can you get a pint of Sam Adams or Blue Moon for $3 each?
The special runs from 7-11 pm so unsurprisingly when we arrived at 7:30, there was already a long wait for a table. We stood by the bar and had a few beers while watching baseball on the multiple TVs in the bar area. The hostess told us it would be about a 30-minute wait, but it turned out to be closer to an hour. We were finally seated at a booth in the back, which was much more comfortable and less loud than the crowded bar area in front. Luckily, there are also tons of TVs in the back so you won't miss out on any sports action!
Josh and I both ordered cheeseburgers with swiss, medium-rare. The burger came smothered in cheese, which was nice, as the patty was thick enough to stand up to the flavor of the swiss without being overpowered. They use English muffins at Rathbone's, which is a nice change once in a while from a standard bun, but the muffin was way too small for the patty, and it wasn't toasted. It came with a few leaves of lettuce, a slice of tomato, and a thick slice of pickle. No onions, unfortunately, which are my favorite topping.
The burger was overcooked, more medium-well than medium-rare, but it was still pretty juicy and flavorful. Not bad for a sports bar, and would be better if they could fix the bread-meat ratio by using bigger English muffins. The best part, however, were the fries. Thin, hot and crispy, just the way I like them.
Overall Rathbones is a great place to have a beer, grab a bite, and watch a game. The food is pretty good and reasonably priced, even without the specials. But after taking into account the two-for-one deal, two cheeseburgers and two hamburgers came out to just under $22, before tip. If you don't mind the wait for a table, it's a hard bargain to pass up. I will definitely be back, maybe on Wednesdays for 25 cent wings, or on Fridays when their tasty-sounding French dip is just $6.95. It seems like a great place to have in the neighborhood.
Rathbones
1702 2nd Ave. at 88th St.
New York, NY