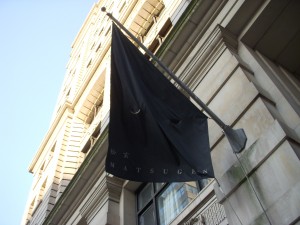 Almost every Sunday night, Josh's parents come into the city to have dinner with us. It's a nice time for everyone to get together and catch up on the going-ons of the week. We have our standby favorites that we frequent, and we also like to try new restaurants for some variety. We all love to eat Japanese food, and Josh's parents had heard about a great deal that Matsugen was running, a $35 multi-course prix fixe dinner. They tried it out a few weeks earlier and liked it so much that we made them go back with us so we could try it as well.
The menu has a hot/cold theme, with each course consisting of a hot dish and a cold dish. The only course where you need to choose between the hot and the cold dish is the third course, your main entree. For $35, it's really a lot of food but everything is pretty light and refreshing so you don't feel so weighed down afterward.
We ordered a few appetizers off the prix fixe to start. The edamame was served warm with a nice sprinkling of salt.
The crispy shrimp were were perfectly fried and served hot and crunchy.
The chicken meatballs, however, were a bit too dense and bland. The accompanying hot mustard didn't help much.
The miso glazed cod was absolutely delicious, with a sweet, sticky exterior and delicately tender, flaky white flesh inside. This was my favorite dish of the night.
Next came the first course of the prix fixe menu, field greens with lobster (cold dish) and miso soup with fried tofu (hot dish). They serve both dishes at the same time, so it's kind of hard to decide which one to start with. I chose the miso soup first, since I didn't want it to get cold. It was unlike any miso soup I've tasted before, and had a very smoky aroma and flavor. The soup itself was very pleasant, but the fried tofu was a bit of a throwaway in the dish, as it was too soggy, tough and a bit oily tasting.
The field greens salad was terrific, topped with huge chunks of tender lobster and lightly dressed with a yuzu vinaigrette. The amount of lobster was really surprising, and it was nice to see a restaurant not cheap out on an inexpensive prix fixe menu.
The second course was a hot dish of shrimp and vegetable tempura and a cold dish of sashimi. Again, it was hard to decide which to eat first, as I didn't want the tempura to get cold and soggy, but I also didn't want the sashimi to warm up while I was eating the other dish. Luckily the beautifully presented sashimi is served on a bed of ice, which helps keep it cool. The tempura was delicately battered and fried to a perfect crisp. The coating was light and flaky, without a trace of grease, and though the portion was huge, I didn't feel heavy or gross afterward as I usually do after eating fried foods.
The salmon and yellowtail sashimi were really fresh and melted in your mouth, but sadly, the tuna and red snapper were a bit tough and stringy.
For the main course, we had a choice between cold seiro soba noodles or hot chicken and scallion soba. Josh went with the cold dish and I chose the hot, so that we could try both. The cold soba noodles came with a sesame dipping sauce that had a nice nutty flavor, but needed a pinch of salt from the bowl on the table as it lacked enough seasoning. It was very refreshing though, and had little ribbons of shiso leaf mixed in to brighten up the flavors.
The hot chicken and scallion soba came in soup similar to the miso soup from the first course. It was also very smoky, but I found the dish to be very comforting. The only disappointment was the dry pieces of chicken, which I ate around, concentrating instead on the nicely chewy soba noodles.
There was only one choice for dessert, a vanilla caramel pudding that was a bit shockingly bitter if you ate the caramel on top by itself. Once everything was mixed together, however, the bitter caramel tempered the sweet vanilla pudding, and I scooped out every last bit of it from the bowl.
Overall the meal was really nice, and for the price, it's a terrific deal. Like I said with the lobster, they really don't skimp on portions or ingredients. You get a lot of food, and except for a few pieces of not so fresh sashimi, most of it is quite delicious. Everything was well prepared and served appropriately hot or cold, in line with the menu theme. The service is attentive, and no one made us feel bad about ordering from the cheaper menu. I would absolutely come back here again, and I'm hoping next time to try the sea urchin with yuzu jelly, a dish that I've read about a lot. Who doesn't love uni?
Matsugen
241 Church St. at the corner of Leonard St.
New York, NY